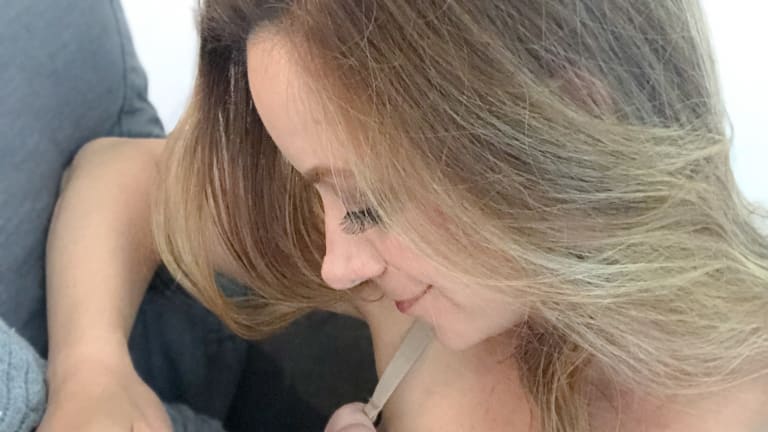 Why Every Nursing Mom Needs the Right Hand Pump
Those Fancy Machines Are Great, But You Still Need This Manual One From Medela
I never anticipated that I'd be so committed to exclusively breastfeeding Baby Number 3. It just sort of happened, and now here we are four months in, and I'm a round-the-clock nursing-mama machine.
To be clear: I have no issues with formula--in fact, I never even attempted nursing my first child. He happily drank bottles and chugged Similac from Day 1. When I was pregnant with Baby 2, I decided I'd try breastfeeding. I went in with zero expectations, and when she was born with low blood sugar they immediately mixed up some formula for her to drink down. Fed is better than hungry, right? So she drank formula or drank expressed breastmilk or nursed and was happy to go from one to the other to the next. It took a few days--weeks, even--to get in the groove of breastfeeding, and I loved that I had alternatives to turn to.
But, this time, nursing came so naturally. Within maybe an hour of being born, I felt Baby 3 shimmy up to my breast, nuzzle in and latch right on. I couldn't get over how immediate and instinctual this was. Since that early moment, she's been feeding like a pro and we've both been loving every sweet snuggly second. And since I mostly work from home, I've been able to pretty much exclusively nurse her. It's almost to a fault--when I try to give her a bottle, she doesn't really know what to do with it. Despite wanting a date night or a few hours of me-time, this barely has been an issue; I knew I'd need to get back to her within a three hour time frame. But then, a few weeks ago, I was confirmed for a media tour--that's a whole day of being on-air and away from my baby. With one week of advanced notice, I realized I'd be away from her for eight consecutive hours--hardly anything to stress about, but, still, I didn't want my little love to be upset or hungry or fussy. So, it was time to start practicing--and most definitely time to start pumping and preparing.
When It's Occasional 
I have a hospital-grade pump that I got through my health insurance. But, the truth is: since I rarely need to pump, I didn't see the need to break it out of the box. The Medela Harmony is a single, manual breast pump designed for occasional time away from baby. Featuring 2-Phase Expression technology it helps produce more milk in less time.
When You Are on the Go
You can lug your big electric pump with you in a carrying bag. Or you can slip this slim and subtle hand-pump into your purse and be on your way. When you're out and about, you don't need the extra weight; this will do the trick.
In-Between Meetings
If you have a jam-packed day, rather than go through the hassle of setting up your electric pump, you can express a little bit at a time in your manual pump. IN between media-tour interviews, I did a little bit of subtle pumping. It helped me avoid leaks, feel more comfortable and confident, and feel successful.
For Relief--When You're Engorged 
I used my hand pump early on in the first few days of motherhood to relieve engorgement. When  your milk comes in it can be extremely painful; you can express a little to get some relief and because you are using your hand, you control the speed and pressure--which is key when even the most sensitive touch can make you cringe. Note: this would also work when your baby is starting to sleep through the night. If you need some relief, do a bit of pumping to soften up your breasts.
Want more from Momtrends? Check out how to overcome the pain points of breastfeeding. Also come see what our favorite crib mattress for Baby is.
This is not a sponsored post.