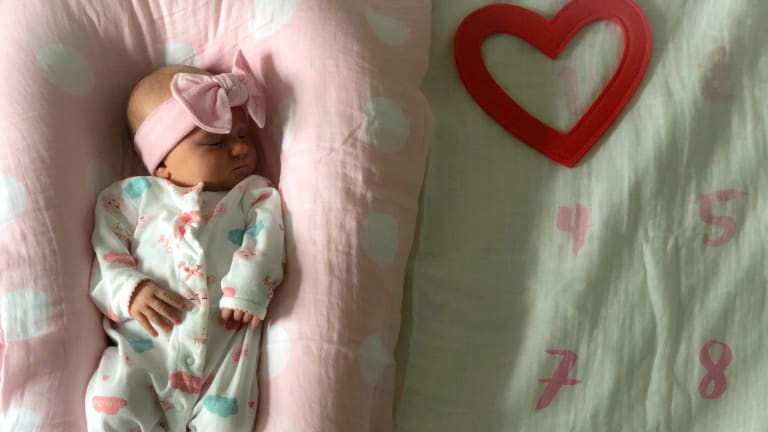 Why Every New Mom Needs to Register for a DockATot
5 Reasons This Is One of My Very Favorite Baby Finds of All Time
If you follow any millennial mom-influencers on Instagram, chances are you've seen a DockATot or two pop into your feed. In all honesty, I, too, discovered this now-big-name brand via social media about three years ago. My then 18-month -old daughter wasn't sleeping through the night, and I was desperate for some magical sleeping device/mattress/surface/gear that would help give her (and me) a few more hours of peace and quiet. I reached out to the brand and tested out the larger Grand-size DockATot. While I can't say that she instantaneously slept 12 consecutive hours, I can attest to the fact that she suddenly was going for significantly longer stretches at nap time and bedtime, and I couldn't chalk that up to pure coincidence.
Naturally, when I got pregnant with Baby #3 a few years later, I knew right away I'd want to my hands on the DockATot Deluxe+. Made for newborns through _, this smaller "baby boat" is meant to keep infants feeling snug and protected. With safety and breathability made a top priority, the DockATot is Oeko-Tex certified, non-heat harboring, and made with questionable materials.
Co-Sleeping
Oh how times change. With my first, I swore up and down I'd never let him in my bed. I promised I'd be diligent about bedtime routines and self-soothing and independent sleep. I even moved him out of the bassinet and into his own crib and room after six short weeks. 
Alas, I became a whole lot less strict when my second came along. I no longer had the luxury of catching up on rest during naps--I had a toddler to take care of too, after all. Suddenly I found myself wanting to move her into bed with me during those late-night wakes, so I could try to snuggle her back to sleep. 
Co-sleeping is most definitely not for everyone but I quickly discovered it was the right route for me. And, with my newest nugget, it's been positively dreamy. Since Night 1 at home, she's been right by my side in her DockATot. I like that it gives her a designated place with build-in breathable sides/bumpers that protect her from rolling out. Middle-of-the-night feedings stay quiet and cozy; I can tend to her immediately and she goes back down much easier since she's right by my side.
Note: Talk to you pediatrician about what sleep style is best for you. And if you choose to co-sleep, be sure to take the right precautions. 
Playing 
Sure, the DockATot is a great place to rest and chill, but it can also be used for playtime. You can purchase an arch and several hanging mobile toys to entertain your little one in a pinch. This is a great alternative to her regular play-mat gym,  which stays downstairs. Sometimes, if she's wide awake in the morning and I want a little extra me-time, I'll attach this nifty accessory and she'll happily kick around for a while in amusement. It's a win-win.
Tummy Time
As moms, we're often preached to about the importance of tummy time.  It helps infants develop stronger neck control and encourages gross motor skills. While my little bug hasn't quite taken to tummy time on a flat surface, she does much better when propped up in her DockATot, using the outer bumper as a perch. We do a few minutes of DockATot tummy time each day as a warm up to flat floor-mat tummy time.
Travel
I know there are plenty of great travel options for babies these days. And while pack and play bassinets have come a long way, I love that I can pack my portable DockATot and go anywhere. The travel bag is key to keeping it clean and protected, and it's so much lighter and easier for any method of travel. And since she uses it for sleep on a day-to-day basis, it doesn't mess with her regular routine.
At the Beach 
At four months old, Baby is not the biggest beach fan... yet. (Who can blame her? It's hot and sweaty and humid and sandy!) But living on the coast, we still try to make it work for small stretches of time. While I haven't gotten my hands on it yet, I'm obsessed with this new canopy product that attaches to the DockATot to shade little ones from the sun. It's a great addition for the pool or shore.
Want more must-have baby-gear finds from the Momtrends' team? Check out the most incredible swing that senses Baby crying. Find out why we think every nursing mom needs a hand pump, too. And get familiar with the cutest, comfiest and most practical infant outfits.
This is not a sponsored post. Samples were received, but all opinions are our own.