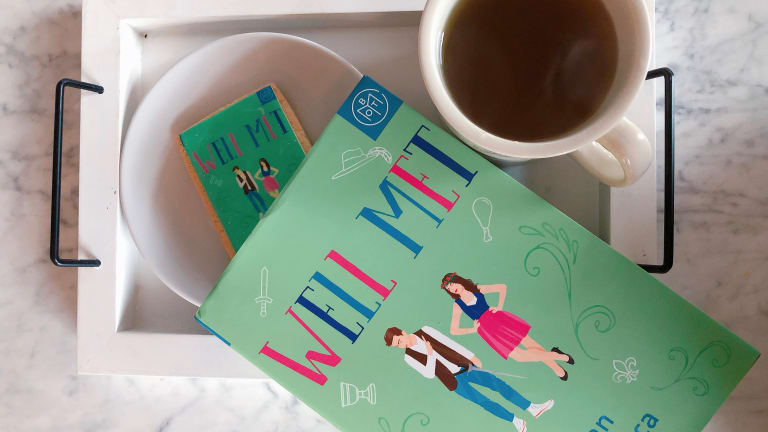 Why Is Book Of The Month Club So Famous?
What's new from this subscription book service that serves up the best books for busy moms
Let's talk about why I use the Book of the Month Club to help fuel my reading  habit. I love books. I'm madly, crazy, head-over-heels in love with books. Since we launched in 2007, books have been a huge part of what we do here. I think a woman who can find escape and solace in books is MUCH more likely to be a happy, healthy, well-adjusted mom. To keep my bedside stocked, I've relied on recommendations and a subscription service. Why is Book of the Month Club so famous? Because it gives moms like me the books we want when we want them.
Ready to read? Get 12 months of books for $12.50 per month here.
Why I love this subscription book service 
My current obsession is Well Met by Jen Deluca. It came just as I was settling into the back to school routine. It's a cute romance novel set in Maryland (my home state). It's "meet cute" book that revolves around a Renaissance Faire. And there's a brooding, hunky English teacher. It's like a Lifetime Christmas movie come to life.
I was a bookworm as a kid--that probably influenced my decision to become an English Major at Vanderbilt--now I make a living from writing. I am all about celebrating books! Did you know one of my first freelance jobs was as a Kirkus book reviewer. Yes, I used to read for a living. I would polish off 5-6 books a month (it's possible when you are pregnant and don't have other kids at home). When I started Momtrends.com, I made sure to include lots of book picks for our community--it was part of our business DNA from the beginning. 
The best books for busy moms
Now we're talking about ways to bring more books into your life, the easy way...having them delivered stress-free each month. It just makes sense that we team up with the #1 way to get books--Book of the Month Club. And I've got some solutions on how to find the time to read! These ideas are more creative than just locking yourself in the bathroom with a good book (but we think that's a great idea too). Check it out...
Why Is Book Of The Month Club So Famous?
Friends, this isn't just chic lit. These are meaty books that will stick with you. From books that will take you away to far off places to stories that will sweep you up in the drama, the books you'll get are gems and definitely worth your time. You can trust Book of the Month --they've been championing great new titles and authors for over 90 years.
Unlike Facebook which has a habit of showing you only the things some 20 year old thinks you need to see, Book of the Month works with real readers who put in hundreds of hours vetting books in order to select the titles. Some of the judges who will be picking for you books include: David Sedaris, Whoopi Goldberg, and Ellie Kemper; journalists from Oprah's Magazine, Essence and Harper's Magazine; and book bloggers.
October Sections from Book of the Month Club
I'm picking the new Elin Hildebrand novel called What Happens in Paradise. I've read a few of her beachy books and love how she sweeps me away in her tales. If you love 
How it Book of the Month Club Works:
Members choose from 5 powerful, immersive new hardcover books each month. And if none of the titles in a given month stand out, you can simply skip that month and they extend your membership.
Get 12 months of books for $12.50 per month here.
More Book Reviews from Momtrends
Pin it!
Use Pinterest to save your favorite book recommendations. Be sure to follow our What to Read board on Pinterest here.
This Why Is Book Of The Month Club So Famous? feature is not sponsored. There are affiliate links in this post.