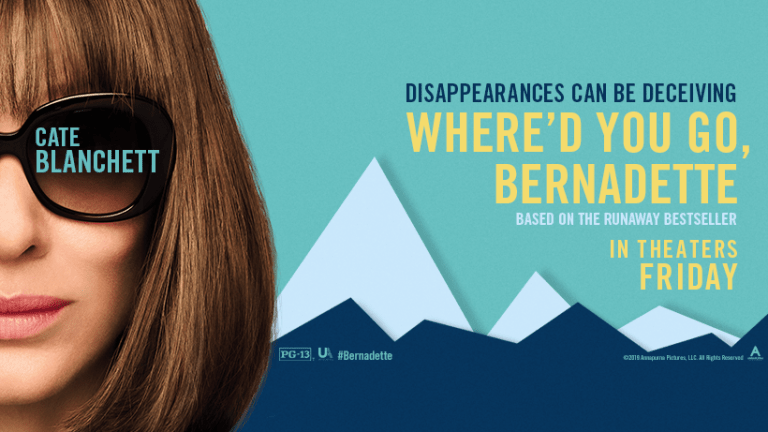 Who Should See the movie: Where'd You Go Bernadette
Having a mid-life crisis never looked so beautiful
Who should see the movie Where'd You Go Bernadette? I wish I could tell you it's going to be a blockbuster and it's perfect for all ages, but I can't. This is a women's movie and it's a girls' movie. It should be a blockbuster because this movie will speak to so many women.
Part cautionary tale, part madcap adventure, it celebrates the decisions large and small that box women in. Where'd You Go Bernadette is joyous and sad and an ode to how complicated it is to be a woman who grew up with the blessing and the curse of having options.
For the price of admission, I got to feel all the feelings of being a middle age mom. Where'd You Go Bernadette? made me angry, sad, frustrated, but ultimately hopeful. 
Where'd You Go, Bernadette Story
The Where'd You Go, Bernadette movie stars Cate Blanchett as Bernadette Fox. Wikipedia calls her "an agoraphobic architect."  She's cut herself off from her career and society to brood over a project that went wrong and, more notably a series of miscarriages. Her current project is being a devoted mom. And at that, she's a huge success. 
Perhaps, being a fabulous mom should be enough in life. But in this movie, and in many real lives it isn't. 
Bernadette like many of us was given a big education and that came with big dreams. Her early architecture career was meteoric and then she started the process of walling herself off from opportunities and connections.
While most women might not have the design genius of Bernadette, many HAVE experienced the phenomenon of dimming the lights of careers to raise children. 
The good news is there are second chapters in all of our stories. Bernadette finds hers in the arctic (and what glorious cinematography awaits us in those scenes!) and inspires the audience to ask: what are you waiting for?
Where'd You Go Bernadette? Starts with a book
The movie is lovingly caressed by Richard Linklater. I've admired him since the Before Sunrise began in 2005, and was so smitten with Boyhood back in 2014. I'm a little miffed that they picked a male director to tell a quintessentially female story, but it's hard to argue with the results. 
Before we get knee-deep into my rapturous praise of Cate Blanchett in the role of Bernadette Fox, let me expose a sinful fact: I haven't read the book. As a book-lover, I am calling myself out on this one. I know Maria Semple's 2012 book was a runaway hit, especially in the mom-book club circles. I simply didn't get to it. My review is solely based on the movie that Richard Linklater directed and co-wrote based on Semple's book. You'll have to go to a different reviewer to find out if the movie honors the book.
Cate Blanchett delivers as Bernadette
If you are a casting director, when the time comes to cast a female genius in any type of career, Cate Blanchette should be on your short list. She's a fearless and passionate actress, and when she takes a role she inhabits it. The mother/daughter scenes made my heart melt.
Emma Nelson is a delight at Bernadette's daughter. I simply cringe when child actors over emote. Ms. Nelson keeps it all on simmer and has a delightful rapport with Blanchette. 
Billy Crudup is up to the task of holding his own on the screen with Blanchette (no small task). He's not given much "meat" in the script, but he's a nimble actor and I appreciate his nuanced delivery. 
Mom Quotes from Where'd You Go Bernadette
The movie is full of discussion points, life lessons and noteworthy writing. My favorite:
Check out the Where'd You Go Bernadette trailer here:
Make a Date for Where'd You Go, Bernadette
Grab your daughter or your BFF and head to the movies. I think I can talk my teen into the movie because she loved Blanchette in Ocean's 8. However you can make it happen, make it happen. The more we celebrate these films, the more of them we'll get. Where'd You Go, Bernadette is in theaters August 16. Head here to find where the movie is playing near you: https://www.bernadette.film/
Momtrends also recommends:
The Maiden Documentary read the full review
Pin it!
I highly recommend creating a pinterest board of the movies you want to see. It'll save you loads of time on the weekends as you ponder what to watch.
This Who Should See the movie: Where'd You Go Bernadette feature is not sponsored.