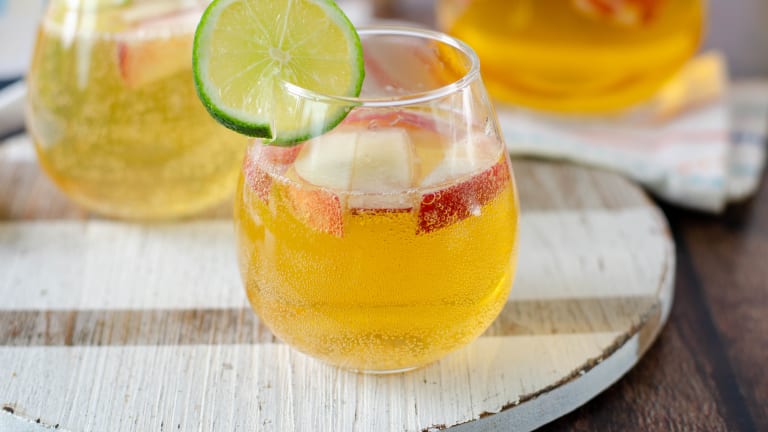 How I Make the Most Delicious White Sangria
When does preparing a drink qualify as cooking? When it results is something as delightful as this White Sangria.
With the arrival of hot weather and the long weekends, it's time for to share how I make the most delicious white sangria. This recipe is too good not to share. 
Related: Summer date night ideas at home
This past week we were visiting friends in the Hamptons. When the kids were napping, the adults enjoyed an outdoor lunch of charcuterie and a pitcher of sangria. Our hosts had made the tasty beverage the night before and let the flavors of the fruit soak in. The result: Pure summer refreshment.
The generous mix-master shared his recipe with me and I snapped a few pictures--one of the drink and one of me snuggling with my little one poolside. 
White Sangria Ingredients
Yield: 8 cocktails.
2 small white nectarines-diced
I green apple-diced
1 bottle sparkling wine
1 3/4 cups apple juice
1 cup club soda
White Sangria Directions
Add the fruit to a large pitcher. 
Pour in sparkling wine and apple juice. 
Refrigerate at least two hours (overnight is better) to draw out sweetness and aromas of fruit. 
When ready to serve, add club soda, and stir. 
Spoon some fruit pieces into glasses filled with ice, and pour.
TIP: The longer it sits the better it will taste.
More Sangria Love
And if you want a wintery recipe we love this one made with red wine: Winter Sangria. And here's one last tip--don't use wine that's too cheap. You want a a good, solid wine otherwise all that delicious fruit is wasted.
Once you've got a great recipe ready, get ready to party. Get your backyard ready for fun. To get some decorating ideas, check out this feature on creating an Ikea backyard. As you can see, you don't need that much space to create a backyard haven. 
MORE SUMMER FUN IDEAS FROM MOMTRENDS
PIN IT!
Be sure to use Pinterest to save your favorite ideas for date night. And for more Summer Fun, be sure to follow this board.