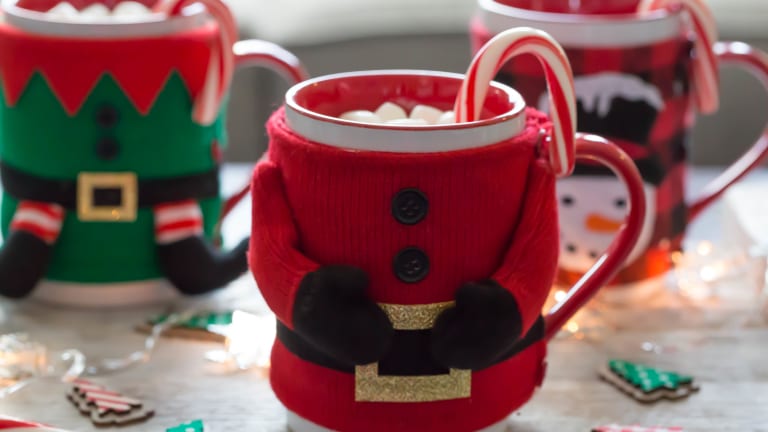 A White Hot Chocolate Peppermint Cocktail
Sip away the night with this rich, warm, cocktail for your holiday enjoyment.
We all love the holiday's, right? Well, some more than others, I adore them—a time to get together and enjoy each other and, of course, eat and drink some fantastic food and beverages.  
Everyone seems to pull out all the stops for holiday parties and here is one you can use for your signature drink.  
Hot chocolate is a classic cozy winter beverage already, so why not dress it up with some white chocolate and peppermint? Just thinking about sipping this warm beverage by the cozy fire makes this mom super happy.
As always, be sure to make a virgin pot of hot chocolate for the kids. No one like to be left out, especially during the holidays.
White Hot Chocolate Peppermint Cocktail
Don't worry if you aren't hosting this year; this recipe is simple and perfect to whip up for a party of one or two as well.  
Do you live where a lot of snow falls? First of all, I'm jealous! Snow is beautiful. Second, next time it snows curl up with a mug of this white hot chocolate peppermint cocktail and enjoy the serenity and peacefulness of watching the fresh snow fall. 
Ahh... Don't you feel more relaxed already? That seat by the window could be my happy place.
Ready to give this cocktail a try? Keep in mind this is entirely scalable. For three mugs, here is what you will need:
Ingredients- makes 3 mugs
4 cups of milk 
1 1/2 white chocolate chips
1 tsp vanilla extract
1/8 tsp ground cinnamon
1/8 tsp ground nutmeg
1/2 ounce peppermint schnapps
3/4 ounce vanilla vodka
candy canes (optional)
marshmallows (optional)
White Hot Chocolate Peppermint Cocktail Directions
In a saucepan, combine the milk, vanilla, cinnamon, nutmeg, and chocolate chips. 
Stir occasionally until the chocolate fully melts. 
Pour into your mugs and add 1/2 ounce of peppermint schnapps and 3/4 ounce of vodka to you mug. 
Mix well and garnish with marshmallows and candy canes.  Enjoy!
Happy Sipping!
Be sure to check out these other delicious winter cocktails: 
PIN IT!
Use Pinterest to save your favorite ideas from Momtrends. Be sure to follow our Holiday fun parties recipes and crafts board here.