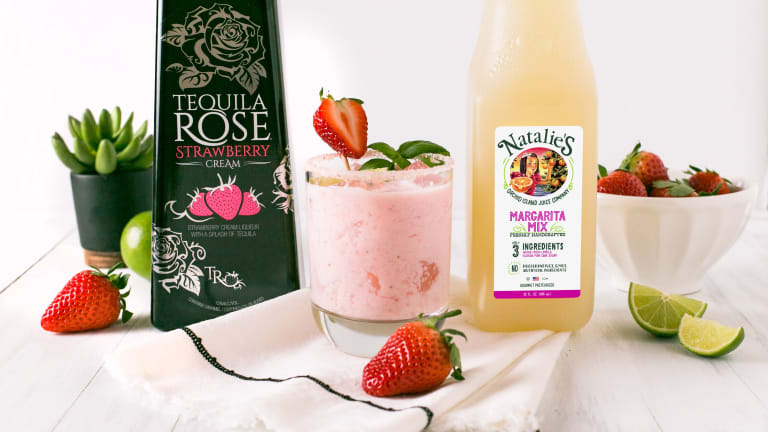 Publish date:
Whip Up a Strawberry Dream Margarita
Celebrate National Margarita Day
Celebrate National Margarita Day
Tomorrow is National Margarita Day... and, bonus, it's also Friday (after a looooong and cold holiday week at home with the littles off from school.) And, so, we say there is more than one reason to celebrate with a special tequila drink.
But this is not your average marg recipe. Oh no, skip that unnaturally lime green mix, and whip up a batch of these foamy, frothy, sweet, and dreamy strawberry margaritas. It's like a creamy dessert and spiked drink in one gorgeous glass. Enjoy!
Strawberry Dream Margarita
Ingredients:
2 Strawberries, sliced
1.5 oz. Silver tequila
3 oz. Natalie's Margarita Mix
1 oz. Strawberry tequila cream liqueur
Juice of half a lime

Five Tips To For a Girl's First Leg Shave
Do you remember your first time shaving? Mine wasn't pretty. I snuck my dad's razor and shaved my legs dry. It wasn't pretty. Get your daughter ready for this rite of passage with the right tools and a quick education. We've got five tips to help you navigate your daughter's ...read more
Why You Should Add Wild Blueberries to Your Diet
Do your New Year's goals involve healthier eating? Adding more fruits and vegetables to your diet? Or even adding tasty new recipes to your repertoire? We've got five reasons for you to add wild blueberries to your diet. Our friends from the Wild Blueberry Association have ...read more
Why Moms are Loving This Blueberry Couscous Salad
It's blueberry picking time. And while most blueberry recipes revolve around baked goods, we've got something different to share. First, a few sentences singing the praises of this lovely fruit. Blueberries are high in antioxidants, improve memory function and reduce the effects ...read more
Pinch of salt
Directions:
1. Place sliced strawberries in a cocktail shaker.
2. Muddle until they are well mashed.
3. Add tequila, Natalie's Margarita Mix, strawberry tequila cream liqueur and lime juice.
4. Add a pinch of salt, and ice to fill shaker. Shake until well chilled.
5. Pour into ice filled rock glass. Serve with or without salt on rim.
Of course, you also couldn't go wrong with our blood orange margarita, our low-cal margarita, our strawberry basil margarita, or our pineapple ginger marg.
This is not a sponsored post.