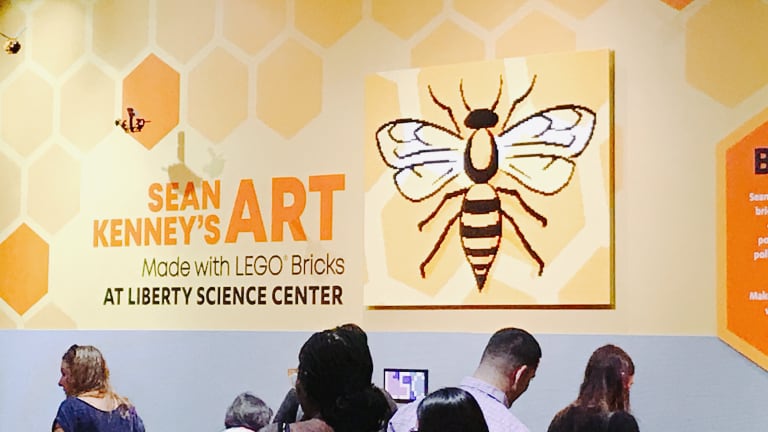 What's New at Liberty Science Center #LSCSummerFun2019
Two cool new exhibits come to this cool New Jersey Family Museum
The kids are out of school and it's my job to keep them entertained and engaged. That means exploring my city and all the cool resources I have. Here at Momtrends, we've been big (make that HUGE) fans of the Liberty Science Center for years. This summer, they continue to earn our love with two cool new exhibits. So whether you're a tourist or a local who is playing tourist this summer, you'll want to know what's new at the Liberty Science Center.
Two cool new exhibits come to this cool New Jersey Family Museum
Liberty Science Center is helping parents "win" summer. If your kids are crazy about LEGO (and ours sure are) you can't miss the phenomenal art of Sean Kenney. The exhibit is all about exploring art and nature through stunning sculptures made with LEGO pieces. 
Many a summer day has been spent building and creating with LEGO. My girls and I love dreaming up new ways to use the colorful and timeless toys. This exhibit is all about getting kids to use imagination. Brooklyn artist, Sean Kenney, has hand built beautiful works of art from LEGO pieces. Fun fact: Some of the pieces take up to a year to build.
Kenney carefully selected each animal to raise awareness about endangered species. He also spent time with all the young guests encouraging them to be mindful about the environment and to tap into their own building skills.
Check out this Gallery of Sean Kenney's Art Made with LEGO® Bricks
The collection includes pandas, tree frogs, polar bears, hummingbirds and more. In addition, some works depict eco-friendly actions humans can take—from protecting an animal's habitat, to planting a garden, to using a bike instead of a car.
And let's take a moment to celebrate Sean Kenney and his ability to craft his own dream job. He's recognized by The Lego Group as a Lego Certified Professional. You know that quote: "do more of what you love?" Sean is absolutely on to something. He is best known for creating scale models, sculptures, and portraits with Lego toys. 
Many kids learn by DOING. This exhibition also includes a hands-on play zone where guests can dream up and build their own wild creations using thousands of bricks! During our visit , we witnessed the kids gravitate towards these areas to show off their own building skills.
The Lion Guard: The Exhibit
Disney is teaming up with Liberty Science Center to celebrate the hit series the Lion Guard. In a cool new HIGHLY interactive exhibit, young guests are invited to embark on a lion adventure.
The Lion Guard: The Exhibit, LSC's newest adventure for young learners,  invites kids to venture through the "Pride Lands" and protect the "Circle of Life." 
Gone are the days of seeing things and letting a few words wash over you. Disney Junior's hit series The Lion Guard came on the heels of the very successful Lion King movie. This museum encourages young guests to learn by touching and moving. On our visit, little kids scrambled to protect the Circle of Life and loved training in the Lion Guard's secret lair. Along the way, they learned about the African savanna and the animals that live there.
The exhibition also includes the "Little Lion Guard," an area where younger kids can engage in activities of exploration, creativity, and skill building. Climbing, crawling, playing, this area is a welcome spot for youngsters with energy.
Plan you visit to the Liberty Science Center 
On the next sweltering day in NYC, grab the kids and go! Liberty Science Center is located in Liberty State Park in Jersey City.
Plan your visit: Experience Sean Kenney's Art Made with LEGO® Bricks from June 22 through Sept. 2, available with the purchase of a Combination or Premium Pass. Experience The Lion Guard from Feb. 16 through Sept. 8.
Liberty State Park 222 Jersey City Blvd, Jersey City, NJ 07305 (201) 200-1000 https://lsc.org/
Pin it!
Use Pinterest to save you favorite ideas for family fun in the NYC area.
This What's New at Liberty Science Center #LSCSummerFun2019 feature is sponsored by the Liberty Science Center.