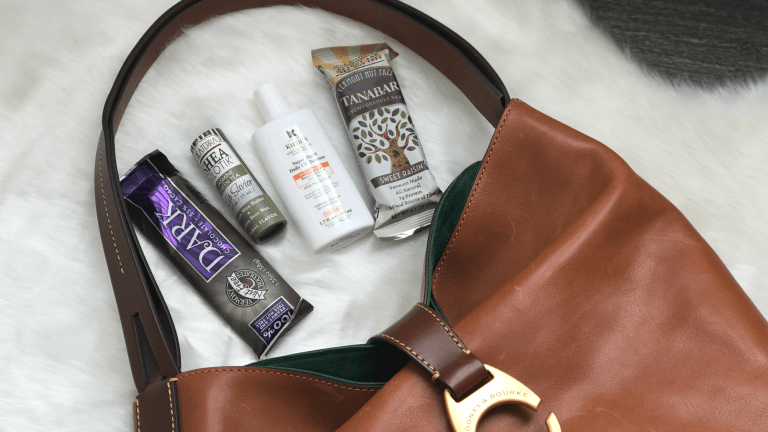 What's in My Mom Bag: 2019 Edition
Up until recently my mom bag was almost always a large and in charge tote, but no more. Today I get to share what's in my mom bag and said bag is a purse. That's right, it's a medium sized actual purse. Dooney & Burke makes a gorgeous hobo bag that's just the right size. My mom bag is a purse that doesn't make me ice my neck and shoulder at night. Let me tell you something. It's glorious. Because while I do still have young kids, they aren't so young that I need to tote around a million and one things for them everywhere we go. Sure, I occasionally toss in a book or a tablet, but the heavy lifting is a thing of the past...for now at least. Who knows when another little one might join the family? I think you just heard my hubs pass out somewhere. Bwah!
What's in My Mom Bag
So, let's get down to brass tacks and talk about this stage of mom life that I'm in. What's in my mom bag now? Well, I have the usual things like a wallet, of course, which has been downgraded in size by the way. The bigger the wallet, the more I junk it up and the heavier I make it. Both my doctor and massage therapist have told me that I've been killing my neck and shoulders with my far too heavy bags. So, I've really been working on lightening things up. I just wanted to share that little nugget because I didn't photograph my wallet, haha! Ok, what else is in my mom bag?
Snacks...I tend to get hangry because I forget to eat throughout the day sometimes. Having a healthy snack that I can easily find in my bag keeps my inner diva at bay. Just sayin'. Currently, the nut free bars and chocolate treats from Vermont Nut Free are my go-tos. I have a nephew with severe nut allergies, so having a snack with nuts in my bag around him is a big no no. With these tasty, nut free gooodies, I don't have to worry!
Lip balm...The dry, flaky lips that can come with winter are the WORST aren't they?! I try to ward them off by always having a good lip balm on hand. My current fave is Shea Terra Organics Lip Savior. It has a nice consistency and is super hydrating which is what you want in a lip balm right? It's creamy, without being waxy. And since I've been slowly, but surely working more natural and organic beauty products into my routine, this balm is a win there too!
Sunscreen...It will forever be my number one anti-aging tool. You never know when you might forget to put your sunscreen on in the morning, or at the very least have the need to reapply. If it's in your mom bag, you'll always be prepared. The Kiehl's Super Fluid Daily UV Defense is definitely a solid choice. It's not too heavy, absorbs quickly and is gentle on my sensitive skin! Plus, it's perfect for city dwellers thanks to its pollution defense! Pollution can wreak havoc on your skin people.
Phone case...Let's face it. This mom is clumsy. And with phones being basically the prices of computers, if not more, these days, a protective case is a must have. Thank goodness for Grip2U! They're innovative design prevents the drop thanks to the handy dandy handle on the back. You simply slip your hand through and, voila, no more dropping that precious cargo! And the dual layer, shock absorbing protection takes over if your phone does happen to give you the slip. Bwah!
So, there you have it. That's what's in my mom bag. Tell me, my friends, what's in yours? Inquiring minds want to know! And now that you've seen what's in my mom bag, for more mom friendly tips and tricks, check out my easy hairstyle for time crunched moms!
We were not paid for this post. We did receive samples.