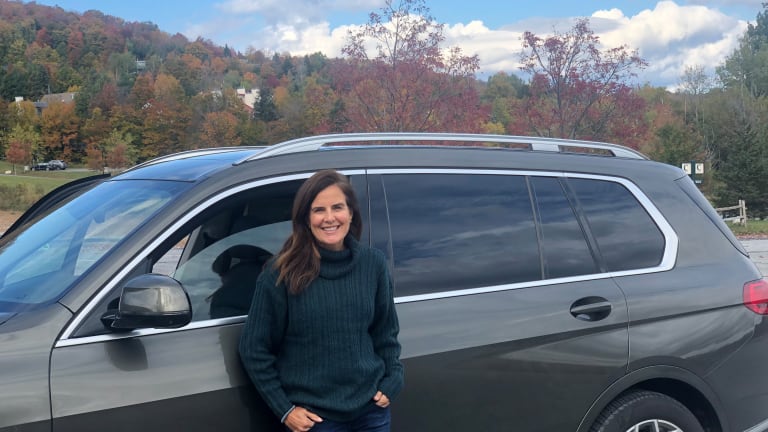 What You Need to Know About the BMW X7
The BMW X7 xDrive40i SUV is loaded with technology to make life easier for moms.
Having a family means obtaining a quick mastery of shuffling from school to soccer, and of course multiple trips to the grocery store. When I hit 50, I upgraded my ride to a seven-seater BMW. Since I spend so much time in my car, I decided to make a big investment. And I want to share what you need to know about the BMW X7 in case you are considering this SUV.
Related: A couples guide car shopping
Why I Picked the BMW X7
I've now been leasing the BMW X7 xDrive40i for 18 months and I feel qualified to weigh in on it's merits. Cars can make all of that shuffling a little easier as you have one place to load and unload your items as you also take your children around.
This car has a lot of power and it's easy to maneuver. It's got a 3.0-liter BMW TwinPower Turbo inline 6-cylinder engine and I love how quiet this big car runs. But I will tell you right now, we picked if for the seating. The seven standard all-electric seats are laid out in three rows, including a second-row bench seat with plenty of space for passengers in the back.
What We DO Love About the BMW X7
Luxury: The car is incredibly sound and well made and handles beautifully. The huge sunroof floods the car with light, even on gloomy days.
Intuitive seat adjustments: For those of us who load a mix of humans and gear, this car is a dream to configure. I am also a HUGE fan of the massage feature on the seats. It's a terrific perk on long drives.
Winter Driving: This is an amazing car in the snow. We added snow tires and felt extremely confident all winter long. It's extremely steady on Vermont's wintery roads. 
Gas mileage: While it's not electric (yet). I do get an average of 23.4 miles per gallon. The inline 6-cylinder engine receives a performance boost with the latest 48V mild-hybrid technology, which delivers heightened eBoost power while optimizing the efficiency of your BMW.
And I also love the color! This color is called Manhattan Green Metallic.
Getting into the Third Row
Ok now that you know about my favorite things, let's dive a little deeper. This was an upgrade from the Volvo XC90 we had to battle those seats every time we had to get them up and down. The BMW X7 is all automated. With a touch of the button or two, you can load people or things into your car without breaking a sweat. Here's how to get the third row seats up and down.
There are two buttons to set up the third row seats. Access the buttons by the passenger door. Press the switch. The rear seat backrest automatically moves to the respective end position. Pressing again stops the motion.
Access the buttons from the cargo area. Pull the switch. The rear seat backrest automatically moves to the respective end position. Pulling again stops the motion.
Check out our video on third row access on YouTube
What We Don't Love About the BMW X7
Now to be fair, I want to give your a balanced take on this car. It's not perfect. Here are a few of the flaws. 
We've had a few software fails. Both resulted in the car not being able to start right away. After 20 minutes, the car sorted out the issue and started up. There have been two time consuming software updates. Each required the car to be "on" but not moving for about 30 minutes.
One button fell off. It's the lower seat adjustment button. We're still waiting to get that fixed. The folks at Automaster in Burlington had to make a special order for the part.
The entertainment system is a tad clunky. We've had issues setting up CarPlay on the car (and we're not alone, check out the reviews). After a few software upgrades, the system seems to be working better.
More Car Features from Momtrends
Pin it!
Use Pinterest to save your favorite Momtrends features. Be sure to follow our Momtrends Board here.
Momtrends was not paid for this post