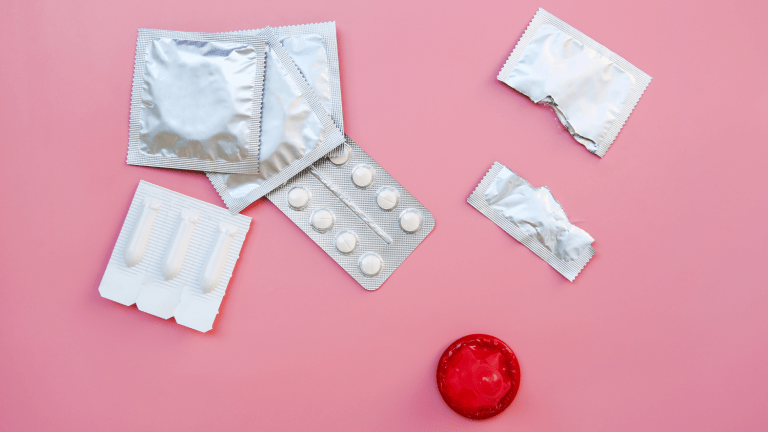 What You Need to Know About Plan B
Talk to your teens about Plan B an over the counter drug that can effectively lower the chances of getting pregnant.
Having children is one of the greatest joys in our lives. As a woman, it's our right and privilege to decide when and how we grow our families. There are numerous options for birth control but sometimes accidents happen and birth control fails. That's where Plan B comes in. It's contraception to be used as a back up when you think you didn't have safe and effective birth control in use. Since the rights of women and girls are always something worth fighting for and discussing, the time is now to educate yourself AND your daughters. And let's not forget about the boys too. They can step up and be true partners.
Related: Why teenage girls are safer sexually than you were
Where I stand on Birth Control
Before we dive in, let's get a few things clear about where I stand.
I believe in sex education at home and in schools.
I believe in free, safe birth control for everyone.
I believe in taking responsibility for my choices and my children.
I believe women should control WHEN and HOW they get pregnant. 
With today's political environment aimed to limit the options to women and girls, we need to be armed with all the facts for ourselves and for those we love. Please note: I'm not a doctor, I'm a mom. I did my own research and you should too. 
What is Plan B?
Plan B is an over the counter drug (repeat, you DO NOT need a prescription) that can effectively lower your chance of getting pregnant. 
The drug in the pill is levonorgestrel and it can be marketed under a few names like Plan B One-Step, Take Action, My Way, AfterPill, Aftera, and EContra. Most women know it as "Plan B" so I'm going to use that name as the generic term going forward. 
Key Takeaway: A levonorgestrel morning-after pill, like Plan B, can lower your chance of getting pregnant by 75-89% if you take it within three days after unprotected sex.
How Plan B Works
Plan B prevents fertilization by temporarily stopping the release of an egg from the ovary (ovulation). If fertilization does occur, Plan B may prevent a fertilized egg from attaching to the womb. It does this by changing the uterine lining. The pill contains levonorgestrel, which is a synthetic version of the hormone progestin. Levonorgestrel has been used in birth control pills for over 35 years. It works because Plan B contains a higher dose of levonorgestrel than that in regular birth control pills. According to WebMD, if a fertilized egg is implanted prior to taking Plan B, the drug will not work and pregnancy proceeds normally and this happens in 11-25% of all cases. That is why time is of the essence.
Key Takeaway: Plan B is not an abortion pill—if you take Plan B, you will not be terminating a pregnancy. It is birth control.
How to use Plan B and other levonorgestrel morning-after pills
Take the Plan B pill as soon as you can. Once you know your birth control failed, it's time to act. Simply swallow the tablet the way you would any other pill. Read the instructions that come in the package for more information.
Follow up! Don't forget to stay on high alert. Take a pregnancy test if you haven't gotten your period within three weeks after taking the morning-after pill.
Make a Plan for the Next Time. Talk to your health care provider to get a reliable and safe method of birth control.
Plan B Side Effects
The morning-after pill is safe, and Plan B side effects aren't very common. In fact, there have been no reports of serious problems out of the millions of people who've taken it. Some of the side effects include upset stomach, feel lightheaded or dizzy, or have tender breasts for a short while when you take the morning-after pill.
After you take the morning-after pill, it's totally normal for your next period to be different from what you're used to. It may come earlier or later, and be heavier, lighter, or more spotty. Or it may be the same as it normally is.
Where to Get Plan B
You can get the morning-after pill at many family planning or health department clinics, and Planned Parenthood health centers. Plan B should be available at your local pharmacy too. And if you are planning ahead, you can get Plan B sent to you in the mail. I ordered two doses online to have on hand for emergencies. For sexually active teens and young adults, it's a good plan to know where to access the pills and to keep a few on hand.
Order from Plan B directly here.
When I was last at my pharmacy, I saw Plan B behind the counter. I suppose this could be because of shoplifting, but I'm not sure. It's kept with the sudafed (another over the counter drug). You can be ANY age to ask for it and you don't need anyone's permission. But realistically, for teenagers, this can be scary. 
I know, I know, if you are old enough to have sex, you are old enough to go into a pharmacy to buy Plan B. Sure, I hear you, but I also know the world isn't perfect. So please make it easy on your teens to ask for this.
Oh, and I should mention it is $48 per dose. Not cheap, especially for kids. 
What Else you Need to Know
Plan B and other morning-after pills may not work if you weigh 155 pounds or more. 
Key Takeaway: The Plan B pill works best when you take it within three days after unprotected sex. You can take Plan B and other levonorgestrel morning-after pills up to five days after unprotected sex. But sooner is better — the longer you wait to take it, the less effective it is.
The brand doesn't really matter. They all work the same way. All brands have the same amount of medicine and the same effectiveness, no matter how much they cost.
If you throw up within two hours of taking the pill, it won't work and you'll need to take it again.
This is NOT a great idea as permanent method of birth control. But the there is no limit to the number of times an individual can take Plan B, or the emergency contraceptive pill. Women can take it as often as necessary to prevent an unplanned pregnancy.
Shelf life
Plan B has a shelf-life of four years. For the exact month and year that the pills are set to expire, you can consult the information printed on the side of the box.
It's best stored at room temperature, or between 68 and 77 degrees.
Make a Plan With Your Teens
Now that you are armed with the facts, please talk to your teen. This goes for girls and boys. Boys can be armed with this information and even the pills to be a good partner.
And I'm going to say it, you might want to go ahead and keep some on hand, or get a few doses to send off with your kids to college. Since the morning-after pill works better the sooner you take it, it's a good idea to get it BEFORE you need it. You can keep it in your medicine cabinet and it will be there for you, just in case. That way you can take it as soon as possible if an accident happens, and you won't have to worry about finding it at the store when you're stressed out.
Get more information about your reproductive health here:
www.plannedparenthood.org/learn/morning-after-pill-emergency-contraception/whats-plan-b-morning-after-pill
WANT MORE FROM MOMTRENDS?
PIN IT!
Use Pinterest to save your favorite articles. Be sure to follow our Parenting Tweens and Teens board here.
Momtrends was not paid for this post.