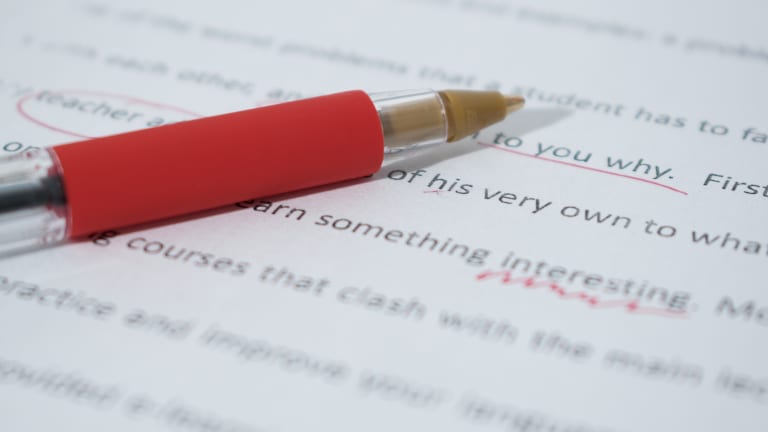 What You Need to Know About National Grammar Day
Practice your English skills on Grammar Day or any day. It's never a bad day to learn something new.
Grammar nerds, rejoice! National Grammar Day is March 4th, and it's the perfect day to celebrate the idiosyncrasies of the English language and study up on some of the common grammar mistakes. I know you grammar police types. I see your posts on Facebook and Instagram and this day is for you.
What is Grammar Day
The day was established in 2008 by Martha Brockenbrough, the founder of the Society for the Promotion of Good Grammar. The day's motto is: "It's not only a date, it's an imperative: March forth on March 4 to speak well, write well, and help others do the same!" Today is the day to celebrate our language and brush up on the rules. 
Here's a rule: Lay versus lie. How to remember it: you lie down on the sofa, but you lay the book on the table!
Working on Grammar
As for me, I'm still a work in progress. One of the reasons I love blogging is the editing feature. I catch my own typos all the time and head back in and make changes.
The world's largest online homework help platform Brainly surveyed 1,700 high school students (ages 14-18) nationwide to learn about the most common grammar mistakes, their opinions on controversial grammar-related topics like the Oxford (serial) comma, and more.
The top 5 grammatical spelling errors students said their peers make most often are:
Here are the errors most reported. And yep, I'm guilty of making these too. Here's a little help from Grammarly.
Whom should be used to refer to the object of a verb or preposition. When in doubt, try this simple trick: If you can replace the word with "he"' or "'she," use who. If you can replace it with "him" or "her," use whom. Who should be used to refer to the subject of a sentence.
They're / their / there (32%)
It's / its (24%)
Your / you're (19%)
Too / to (13%)
Who / whom (12%)
The top 5 grammatical syntax errors students said their peers are most guilty of are:
Personally, I know a few famous authors who racked up some awesome run on sentences and still told a good story. 
Run-on sentences (54%)
Punctuation mistakes (13%)
Subject-verb agreement errors (12%)
Pronoun agreement errors (12%)
Passive voice (9%)
The top 5 most shocking grammar-related learnings from the survey are:
What the survey reveals. 
Roughly 53% of single U.S. students said that bad grammar is a dating deal-breaker.
Nationwide, 66% of students said they prefer a writing style that uses the Oxford comma.
Nearly 8% of students said they think their grammar is better than their English teacher's.
36% of students said writing essays causes more stress than other types of homework.
About 43% of students said their most common grammar mistake is not knowing when to use a comma or not.
The top 5 states where students said they think good grammar is very important are:
Vermont (68%)
North Carolina (62%)
Delaware (59%)
Pennsylvania (57%)
Massachusetts (53%)
The top 5 states where students admitted not knowing what an Oxford comma is:
If you were wondering here's what Dictionary.com says. The Oxford comma is used after the penultimate item in a list of three or more items, before 'and' or 'or' (e.g. an Italian painter, sculptor, and architect ).
Arkansas (21%)
Georgia (20%)
Alabama (19%)
Kentucky (14%)
New Mexico (14%)
How to Get Better at Grammar
Well, you can head back to my Catholic school and have the nuns beat the rules into your brain, or you can use some modern tools like Grammarly or Brainly.
What works best? Peer editing. "We find that peer learning is often the key to correcting common grammatical mistakes. We encourage students to have others review their written assignments before turning them in, so the student can be made aware of any errors and learn how to fix them. It's also good practice for students to offer to peer review others' assignments because it reinforces their grammar knowledge by having them explain grammatical concepts to others," says Oldfield.
Brainly is the knowledge-sharing community where 150 million students and experts put their heads together to crack their toughest homework questions.
Practice your English skills on Grammar Day or any day. It's never a bad day to learn something new.
Momtrends was not paid for this post.