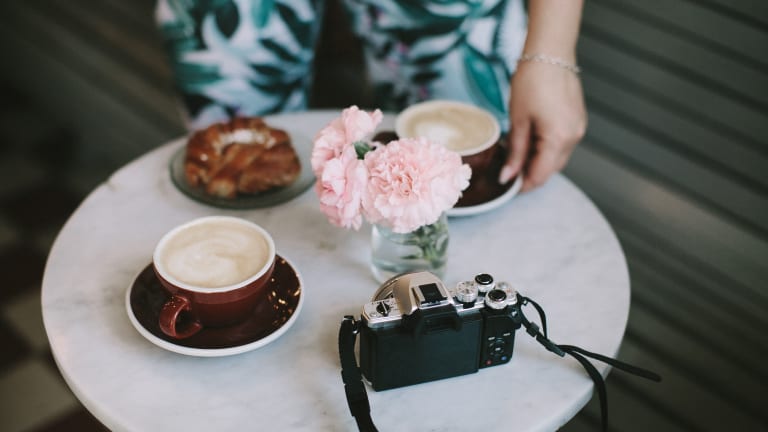 We Found Easy DIY Floral Design Tips
10 Floral Design Tips for Newbies, with our tips you will be a flower design pro in no time.
To inspire floral designs and create a few of my own, I have been honing my creativity and arranging more flowers at home. Whether it's for a dinner party, or simply to make your house more vibrant, flowers are always a good idea.
Related: 5 Impressive DIY Floral Designs for Spring
10 Floral Design Tips for Newbies
I always have vase on the table when I am entertaining at home. I think of it as a thank you to myself for organizing an event. And if it is a kiddie party it's a nod to the adults in attendance that I care about my home. Here are my tips for using flowers as decor at a birthday party.

Start with the green stuff. Begin your arrangement with the greens and then add the color and blooms. It'll help with spacing. 
Use rubber bands to help keep your arrangement together. Once you create the shape you want in your hands, cut the stems and hold them together with rubber bands.
Angle it! Cutting stems sharp scissors at an angle. This will expose more of the stem to water and allow it to "drink" more. 
Create a tape grid. It's a handy way to divide up the space in your vase. Check out this instructional article.
Strip the leaves. Anything below the water line should be trimmed. This will cut down on bacteria production (and smelly water). To see how to strip leaves head here. 
If you are on a budget stick to a single flower bunched together. I can always find relatively cheap tulips here in NYC. I pick one color and buy a few bunches. At $7 a bunch it make a room come alive.
Opt for seasonal. My little girl is always thrilled to come pick out flowers. If there is time I take them to the farmers market. My July-daughter likes sunflowers–perfect! When you shop in season they will look better and last longer.
Shorter is Easier. Don't go for a super tall arrangement on your first go-round. Lower arrangements are easier to deal with.
Get inspired. The blogosphere is full of talented designers. A quick search led me to Flower Duet.
Keep them fresh. Cut the stems as often as you can, and try to change the water daily. Get more tips for making your arrangement last.
$20 Flower Arrangement
Sometimes going to a florist doesn't make sense. For a recent party, I made this quick and easy sunflower arrangement for $20. Placing the flowers into the vase took me about 5 minutes and an arrangement like this would have cost at least $50.
One more Flower hack for Busy Moms
Momtrends Tip: If you are in a pinch and can't (or don't want to DIY) remember to bring your own vase to the flower shop. If you are using a florist, drop off a favorite vase or other decorative item. Another idea for inspiration is to give your florist a copy of the invite so he/she can see the color scheme.
MORE DECORATING IDEAS FROM MOMTRENDS
PIN IT!
Use Pinterest to save your favorite entertaining ideas. Be sure to follow our DIY and Crafts Pinterest board here.
 Momtrends was not paid for this post.