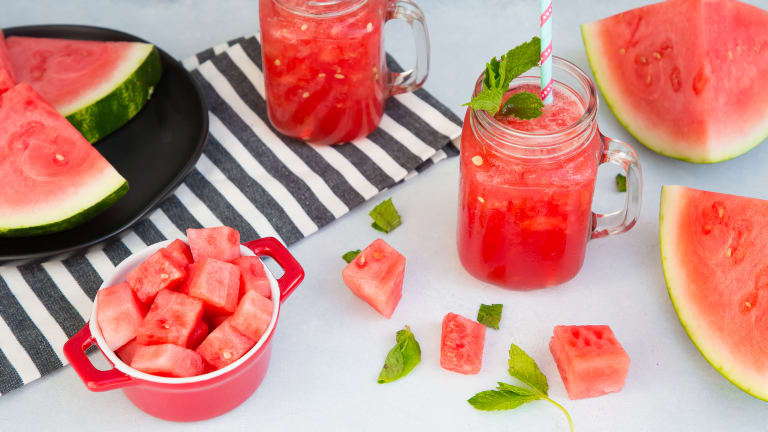 Watermelon Slush Cocktail
This watermelon slush cocktail is the perfect drink to serve this summer! It's refreshing, tasty and super easy to make!
Watermelon season is here and I, for one, am ecstatic. We all adore watermelon, and it has to be one of my absolute favorite fruits. Hence, today's watermelon slush cocktail.
Related: Sparkling rosé summer sangria cocktail recipe
Watermelon Slush Cocktail
The juicy sweet taste is not only delicious but super hydrating. And it pairs amazingly well with mint. Adding a burst of freshness and vitality, the mint infuses this cocktail and really enhances the summertime feel.
When picking a watermelon, be sure to choose one that is heavy for its size and makes a hollow sound when you thump it. This ensures that the melon is ripe and super juicy. Perfect for devouring on a hot summer day.
This is another cocktail I adore for pool days with friends. Make a blender full and enjoy with your besties for an excellent day in the sun.
Watermelon Slush Cocktail Ingredients
To make this cocktail, you will need a blender, plenty of ice, and watermelon.  Also, you are going to need a mint simple syrup. The syrup can be made the day before and be stored in the fridge until you are ready for it.  
Ingredients-makes 1 pitcher
3 parts ice
1 part seedless watermelon 
1/4 cup mint simple syrup
Instructions for making Mint Simple Syrup
1/3 cup water
1/3 cup sugar
1 handful (about 10) mint leaves
Bring this to a simmer and hold for about 10 minutes. Remove from heat and let steep for 10 minutes. Remove the leaves and store in the fridge until you are ready to use.
Watermelon Slush Cocktail Directions
Add 2 cups of watermelon to your blender and puree. 
Add 6 cups of ice and pulse to break it up and then blend until you reach your desired consistency. 
Add the simple syrup and pulse to combine. 
Serve immediately. Garnish your watermelon slush cocktail with a watermelon wedge or fresh mint. Enjoy!
MORE COCKTAILS AND ENTERTAINING IDEAS FROM MOMTRENDS
Love this recipe? Please share! You are guaranteed to love these summer cocktails too: 
PIN IT!
Use Pinterest to save your favorite cocktail ideas. Be sure to follow our Drinks board here.
This is not a sponsored post.