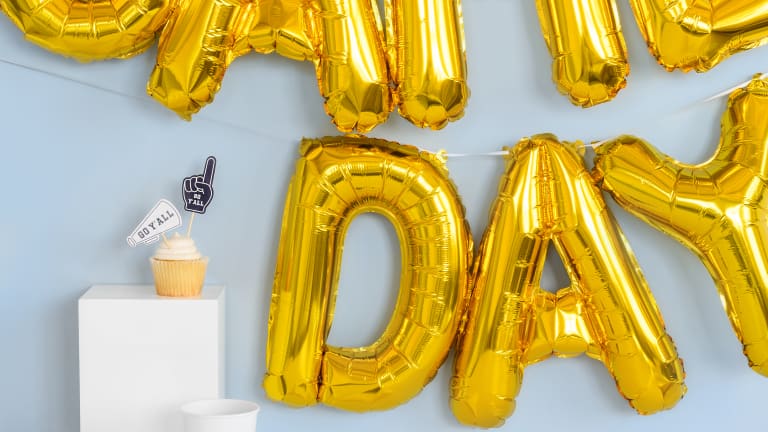 Publish date:
Upgrade Your Tailgate Game With Draper James X Coterie
We love a good partnership here at Momtrends--two brands teaming up to create an amazing product. And that's why we're so excited about the first-ever partnership between Draper James, Reese Witherspoon's fashion and lifestyle brand, and party supply brand Coterie! Because, two more things we really appreciate: fabulous fashion and whimsical entertaining decor. 
The new collection from Draper James Coterie is designed to elevate your tailgate with ease (fun!), combining elements from Draper James' Southern charm -- from the bubbly "Go Y'all!" motif to the heritage Magnolia flowers and gingham prints -- with the functional and easy party sets Coterie is known for. The line is just perfect for busy mamas who just want to have a nice Sunday Funday.
The Draper James Coterie Tailgate Set kicks off the first of three collections between the two brands and includes everything you need to effortlessly upgrade your tailgate gatherings with style and personality... And there's only one thing we can say about that: Go get it Yáll!

5 Pretty Ways To Organize Your Jewelry
I admit - I'm guilt. Despite my best efforts, my "jewelry drawer" has become a tangled mess of necklaces, bracelets and earrings. This cluttered collection not only makes it hard to see what I have, but difficult to untangle the pieces I do want to wear! This summer, I'm ...read more
This Year's Coolest Jumbo Pool Floats
Pool season is almost here! I can't wait to relax, read a book, and sip a cocktail while lazily drifting in an oversized float. (Just kidding, I have two toddlers--but a swim mama can dream, right?). If you've got a staycation planned, check out this year's coolest jumbo pool ...read more
Crystal Clear and Pristine: Pool-Cleaning Tips
Tropical Storm Isaiah gave us quite the midsummer surprise here in the suburbs of New York City. We just got our power back on after a whole week of darkness! With trees down, debris everywhere, and lots of uncertainty, one thing we forgot to check on: our above ground Intex ...read more
Pin it!
Use pinterest to save your favorite fashion finds from Momtrends.
Want more from Momtrends?
1. Draper James Mommy and Me Style
This is not a sponsored post.