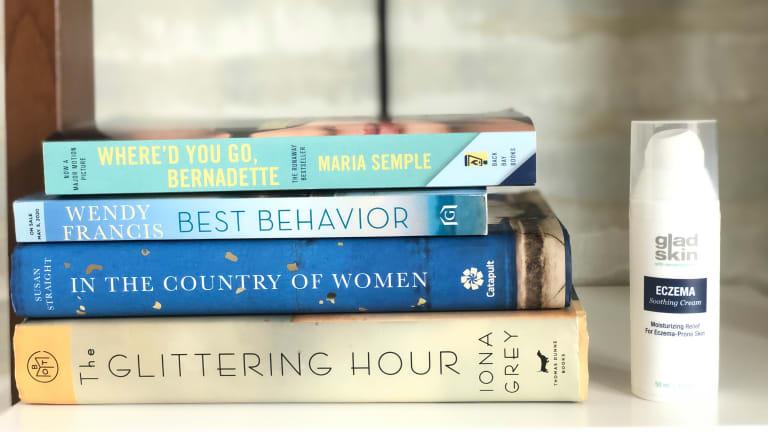 Understanding Eczema and finding solutions that work
We don't know WHAT causes eczema, we only know how to identify and treat it. Our family has been using Gladskin to help relieve the itchiness and irritation.
To say my stress levels are elevated, would be a bit of an understatement. Right now I am doing my best to be head cheerleader for my family as we deal with what's happening in the world right now. That means I'm leader of the homeschool, chef, personal trainer and a camp counselor all rolled up in one. Add a business to run and it's little wonder my eczema has flared up. In addition to my other jobs, I'm working on understanding eczema and finding solutions that work. Our family has been using Gladskin to help relieve the itchiness and get us through this tough time. We've gotten relief from our symptoms and have one fewer thing to worry about right now.
Related: 5 tips to rein in your anxiety in times of total uncertainty
What is Eczema and How Does it Effect Us
Eczema is a very common skin condition. I started having bouts of it as a teen and have had flare ups come and go since then. For me, seasonal changes and stress seem to lead to flare ups. When I have to deal with my eczema it's usually on the back of my calves down by my ankles and on the right side of my waist, right above where my pants would naturally sit (but only on the right side which is so weird!).
Eczema flares are caused by an imbalance in the types of good and bad bacteria that live on our skin (a.k.a. skin microbiome) in 80% of people with Eczema. And Gladskin Eczema Cream with its smart protein Micreobalance addresses this imbalance. Its targeted approach works to balance our skin's good and bad bacteria to help relieve the itchiness and redness that eczema causes. 
My daughter developed eczema early. Her irritation would go up and down her arms and on the back of her legs. It was painful to see her battling it as a toddler. This is one thing I did NOT want to share with my daughter. 
When it comes to spotting eczema it starts with the itch. Younger children tend to develop eczema on their face. Older children tend to develop on extremities, such as the folds of arms and legs or the back of the neck. With adults, it's widespread. Eczema frequently gives you an itchiness aura that tells you that a flare is on the way. 
After the itchiness, a rash appears. Rashes are usually red and bumpy. The rash itches and may burn, especially in thin skin like the eyelids. If things get really bad the rash may ooze and become crusty. It's important to treat a flare as quickly as possible. We've been relying on Gladskin, which is a completely new category of eczema treatment, and is recommended for people who feel like they've tried everything. This over the counter treatment is dermatologist recommended and accepted by the National Eczema Association. 
When we use it as directed (in our case we apply 3x a day) the flare up are taken care of swiftly. I find the best time for me to apply Gladskin is right when I step out to the shower. I get almost immediate relief to the irritation to my skin when I'm careful about consistent application.
Order Gladskin here US.gladskin.com
Dealing with eczema in your family
Getting the right treatment is so important. All through the winter I've been relying on Gladskin to help with my symptoms and flare ups. With the brand's patented smart protein, Micreobalance™, Gladskin Eczema Cream safely rebalances the skin microbiome while moisturizing.
Gladskin is leading the change in understanding the world of eczema. We don't know WHAT causes eczema, we only know how to identify and treat it. Eczema is known by a variety of factors including dryness, itching, breakdown of the skin barrier and inflammation. It can be non-allergic, meaning it did not develop because of contact with an irritating substance, or allergic, because some irritating contact was made. It's estimated that eczema affects 35 million Americans: 1-3% of adults, and 10-20% of children.
Momtrends Tip: It's important to be aware of the early signs of eczema--you may recognize patterns of itching and reoccurring areas that flare up quickly, like the arms, legs and face. The sooner you start treatment the better.
Treating Eczema
There are some lifestyle choices we can make to help my daughter and me with my skin.
Reducing stress is key. Meditation helps as does talking through what is stressing us out.
Avoid harsh soaps
Keep bathing short, using a mild water temperature. 
Treat the itchiness with Gladskin. Gladskin Eczema Cream with Micreobalance works by rebalancing the skin microbiome as it moisturizes, and is clinically proven to provide relief from eczema itch and redness – often within days – and is free of: steroids, fragrances, preservatives and drying alcohols
Going away is actually a myth. Eczema is a chronic skin condition that tends to flare up periodically and then calm down. The goal is to reduce inflammation to help extend the time in between flares. Gladskin works with the nature of your skin, not against it. 
Why Does it Itch so Much
Itching is caused by several things. It's caused by the release of chemicals, like histamine, from different cells, that deposit in the skin, urging you to scratch. The disruption of the skin barrier, as a result of inflammation, which perpetuates the itch/scratch cycle."
Gladskin is safe for everyone 3 months and older (including babies) to use daily. For the best results apply twice daily (or more as desired), even in the absence of flares. I apply it to my "flare spots" when I wake up, when I get out of the shower and right before bed. 
Gladskin is safe to used anywhere on the body, including the face. Use the lotion liberally and proactively, Gladskin cannot be overused.
Gladskin with Micreobalance™ is available at Gladskin.com for $35 for a 1.7 oz. bottle, shipped direct to your door and is backed by the Gladness Guarantee – love it or your money back.
More from Momtrends
PIN IT!
Be sure to follow our Mom Tips and Wisdom board on Pinterest.
This is a sponsored post.