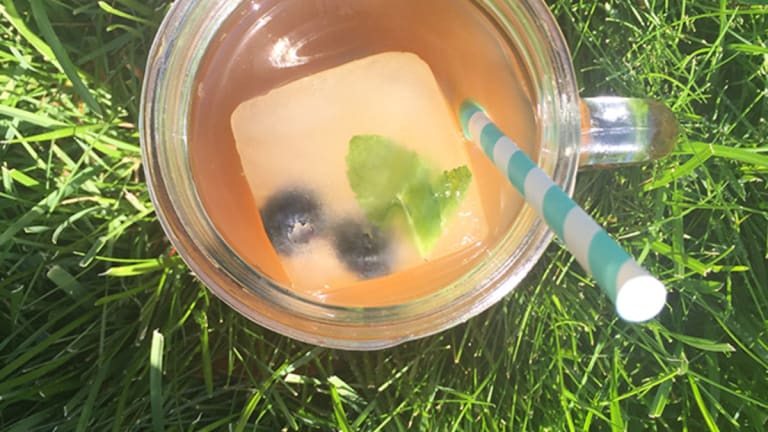 The Ultimate Summer Iced Tea Mocktail
Mint Iced-Tea plus Frozen Blueberry Lemonade Cubes equals The Ultimate Summer Mocktail
If I had to pick one beverage to enjoy all summer (besides rosé, of course!), I'd go for a bottomless Arnold Palmer. The half iced-tea, half lemonade drink is light, bright, refreshing, and tasty -- it's the ultimate summer iced tea mocktail. Plus, you can change it up with all sorts of different flavored teas—peach, mango, green, mint, or even unsweetened black.
Celebrating National Ice Tea Day
Tomorrow is National Iced Tea Day and I'm celebrating early with a twist on my favorite summer sipper. I like my refreshments super-cold, so I always fill my glass (or better yet, my mason jar) with lots of ice. 
Momtrends Tip: Instead of using plain ole water, I'm freezing lemonade into oversized cube—and adding blueberries and mint. 
The Ultimate Summer Iced Tea Mocktail Recipe
Once they're ready to go, I'll pop a few of these big babies into a tall, cold glass of Trader Joe's Moroccan Mint iced tea. Add a cute chevron straw, a fresh sprig of mint, and maybe a lemon wedge, and you've got yourself the perfect seasonal mocktail—although come to think of it, a little booze (perhaps some vodka) would make a delightful after 5 PM addition to this recipe.
Of course, if you prefer your Arnold Palmer heavier on the lemonade, you could reverse your recipe, and make iced-tea cubes.
This drink, not only epitomizes summer, it tastes delicious… and it's so pretty!
What have you been up to in the kitchen? If you want to see more of our iced tea inspiration, check out this video.
MORE FOOD IDEAS FROM MOMTRENDS
PIN IT!
Be sure to follow our Pinterest page for tea lovers to get more inspiration: Follow our Tea Lovers board on Pinterest.