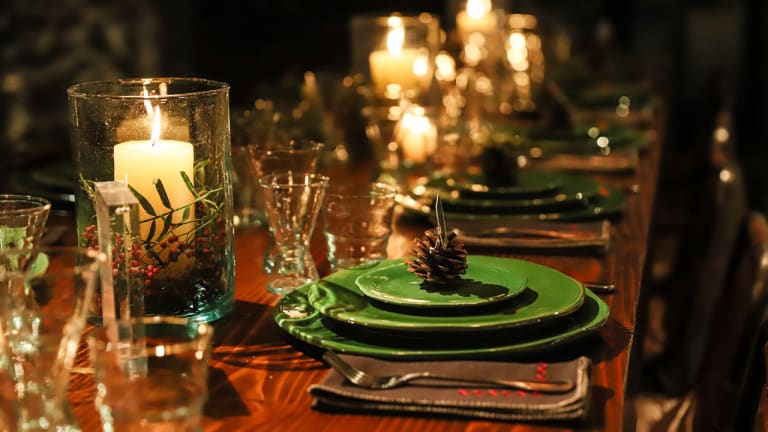 Ultimate Hostess Gift Guide and Giveaway
Tis the season to be hosting and cooking and cleaning and entertaining family, friends, and guests galore. Thanksgiving officially kicks off holiday time, and we're excited for good food, great drinks, and amazing company. Whether the big Turkey-Day affair is in your home or someone else's, we're sharing some fabulous finds and favorite must-haves to help you set the inviting scene in your dining space--or to gift to your fabulous host or hostess! Better yet, we're giving away a collection of everything we're highlighting to one lucky reader--be sure to enter via Rafflecopter, below.
Ultimate Hostess Gift Guide and Giveaway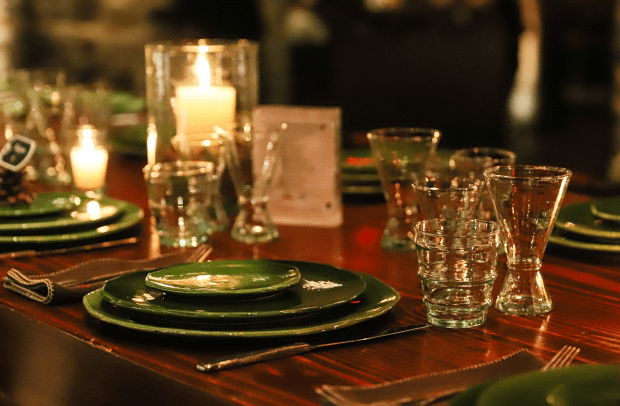 Be sure to enter our giveaway, below, via rafflecopter.
Tighemi Home
We love the uniquely gorgeous artisan-inspired decor, accessories, and gifts from Tighemi Home. Each amazing piece is sustainably handcrafted in Morocco using traditional techniques. Handblown glass sets and meticulously embroidered linen napkins make for stylish statement-making hostess gifts.
Prize: Set of Charcoal Linen Napkin with Orange and White Embroidery (Set of 4); Small Handblown Atas Glass (Set of 6); Large Handblown Atlas Glass (Set of 6); Handblown Glass Tumbler (Set of 6)
EOCreative
We love a little holiday charm, whimsy, and kitsch; and EOCreative's adorably festive Santa sacks, wine bags and treat holders are perfect for gifting to family and friends. They're also cute for using as decorations around the house.
Prize: Set of EOCreative's Santa sack bags, wine backs, and treat bags
Mabels Labels
We are big fans of using Mabel's Labels line of holiday labels for place settings, gift tags, and more. From customized holiday return address labels to fun stocking stuffer combos and festively chic gift tags, there are lots of amazing ways to personalize the season for your family and friends.
Prize: Stocking Stuffer Label Combo (1 set); Wraparound Return Address Labels (1 set); Gift Tags (2 sets) 
Amaze
A stunning coffee-table book is always a sensational host or hostess gift; and this incredible option is no exception. The pioneering Amaze book features nature photography from environmental campaigner and photographer, Cristina Mittermeier. With an incredible collection of inspiring imagery, it captures the sense of deep connection between humans and the environments we live in.
Prize: Amaze Book, published by teNeues 
Bridgewater Candles
Nothing creates ambiance and mood like the glow of a candle and its fragrance. Bridgewater Candle's festively designed holiday collection features shimmering antique mercury glass, and this merry and bright set includes: Christmas Bliss, Cup of Cheer, and Tree Trek. Each Candle is 10.6 oz and has a burn time of 50-60 hours.
Prize: Bridgewater Candles Holiday Trio Set
Raw Spice
Gift the holiday cook with 12 months of delightful spice surprises. The Raw Spice Quarterly Spice Subscription is the gift that keeps giving all year long. You can choose from 75+ salt free, freshly ground spices, with flexible delivery and quantity options. They're hand crafted for easy meals and come with lots of recipe inspiration.
Prize: 12-month quarterly spice subscription
TwelveLittle Bag
A functional and fashionable bag is always a welcome gift. The TwelveLittle Companion Backpack is made with soft and lightweight water resistant materials, so it's great for moms on the go. The spacious main compartment accommodates all the necessary baby essentials (or your stuff!), and exterior pockets make organization almost effortless.
Prize: TwelveLittle Companion Backpack
This is a sponsored post and giveaway.