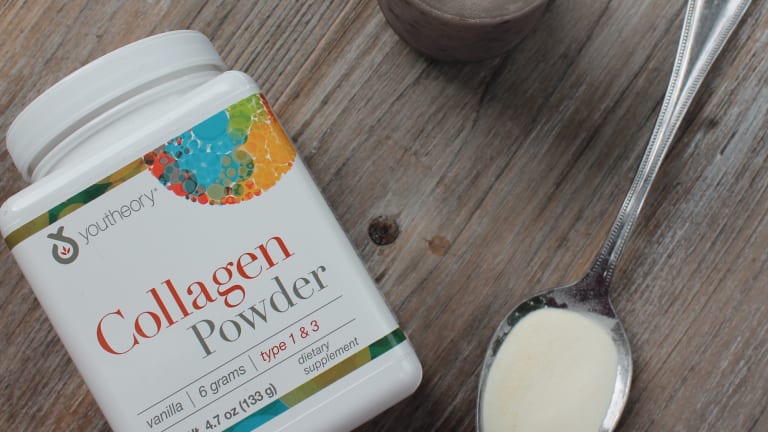 Why You Should Try Collagen
Edible Beauty Remedies
There's nothing like a good dish session with your best girls, am I right? Whether you gather for a lunch out or a night in, taking time to unwind with your girlfriends is the foundation of many of our lives.  It is what keeps us going like nothing else. In this trusted circle you can share your thoughts, struggles and of course, give and get feedback on tips, and tricks that support us on our journey of continued fabulousness.
During our latest sesh, we rounded the corner to talking about our,... um, mature looking skin and what was working and not working to combat Father Time. In this intimate circle we can be raw, honest and help one another be our best version of herself.  We have discussed injectables like Botox but were looking for something a little less invasive.  We all know collagen has been a beauty buzz word for decades, and that dermatologists offer collagen injections to replenish the skin's natural collagen. But one of the latest skin care regime's is not something you inject or even apply, it is one you ingest.  Collagen powder is all the rage now and we decided to give it a go. 
But what is collagen? Collagen is the protein found in the second layer of your skin (called the dermis) and acts like a support structure for it.  Over time, skin loses this elasticity and plumpness as the collagen breaks down. Collagen injections are still available but we have been trying edible collagen and although it's early days, I can already notice the difference.  Both Collagen powder and collagen supplements have become widely available but I met the folks from Youtheory in the spring and chose to give their formula a chance. 
Collagen is important because it not only prevents your skin from sagging, fine lines and other signs of aging, but it revitalizes hair, & nails, supports tendons and ligaments as well as overall organ health.  Eating a diet rich in collagen and vitamin C is recommended and of course beneficial, but collagen supplements ensure you're getting enough of this beauty essential. 

The biggest differences I notice thus far are that both my nails are stronger and grow easily, without splitting or cracking and my hair does not feel as fine. I have always had a lot of thick, wavy hair until I hit my mid 30's. My hair became finer and I felt it would fall out at alarming rates.  Since I started adding collagen into my diet, I am seeing and feeling the difference in both my hair and nails.  I have been a bit inconsistent with my use of the collagen, and am still happy with the results. I can only hope that as I stick to the regime on the regular, my results will be even more noticeable.  As for my face, the only thing I have noticed is that my skin does appear healthier and slightly more plump around my mouth area.  I'll take it especially since my use has been a bit inconsistent. 
I choose to add the Youtheory collagen powder to my shakes, smoothies or on top of my oatmeal (no chalky aftertaste).  I don't love taking supplements in pill form and as with many supplements, the dose involves more pills than I can will myself to swallow.  The collagen powder contains vitamin C which is essential to stimulating natural collagen production.  
The bottom line for me? I am going to amp up my collagen game (and why not? it's convenient, accessible, and takes minimal effort!) and give Father Time a run for his money. 
This is not a sponsored post.