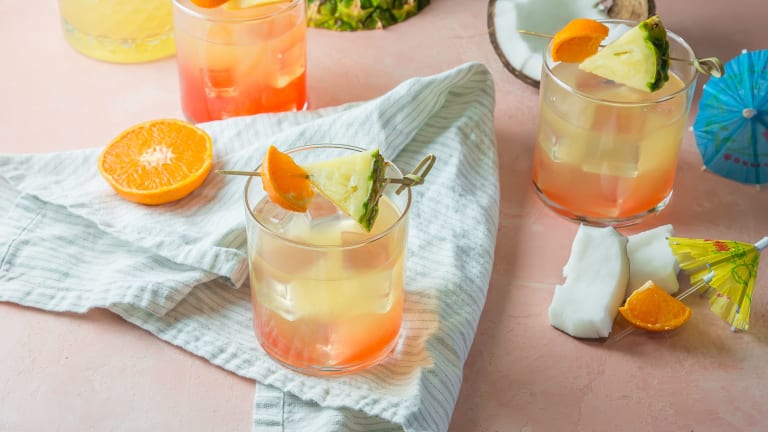 Tropical Cooler
When it's warm outside and the sun is shining, I seem to long for a cold, fruity, and refreshing cocktail. Anyone else?  
This week's cocktail certainly fits that description, and with the coconut water, it is super light too! Be careful though; these are so delish that you could easily sip on them all day long!
With coconut rum as the alcohol component, this tropical cooler goes down sweet and smooth. The cocktail will definitely be in my summer plans. It's perfect for a day at the beach with the girls!
To make this cocktail, you have a few options. The first choice you need to make is to use store-bought coconut water or fresh. I tried it both ways and the fresh coconut really enhanced the freshness of the flavors. However, the store bought coconut is MUCH faster and easier, and it still tastes amazing.
You need to make the same choice with the juice. If you have a juicer you can make quick work of a few oranges and a pineapple. If you don't have a juicer, pick up some orange pineapple juice at the market.
The mix of juice before the addition is super refreshing and hydrating due to the coconut water, so be sure to share with the kiddos! It is a great and flavorful way to help keep them hydrated while playing in the heat. Here in the south, where the high 90s and even one 100+ degree days are common, hydration is so important; and kids lose water quicker than adults so be sure to replenish those fluids. A fancy virgin cocktail may be just what they need to encourage drinking.
The cocktail is equal parts of juice and coconut water with a splash of grenadine and coconut rum. YUM!  Feel free to make this a pitcher at a time.  You'll want to share!
Ingredients-makes one cocktail
1/2 cup coconut water
1/2 cup orange pineapple juice
1 shot coconut rum
Splash of grenadine
Ice
Instructions
Combine the coconut water, orange pineapple juice, and rum in a shaker filled with ice.  Shake together and pour into a glass filled with ice. Add a splash of grenadine and garnish.  If you want to make a pitcher it is better to refrigerate for a few hours since a shaker with ice isn't a feasible way to chill the cocktail. Add the grenadine to the glass when serving from the pitcher.
Happy Sipping!
Be sure to check out our strawberry banana daiquiris, low cal margarita, and spiced pear wine spritzer!