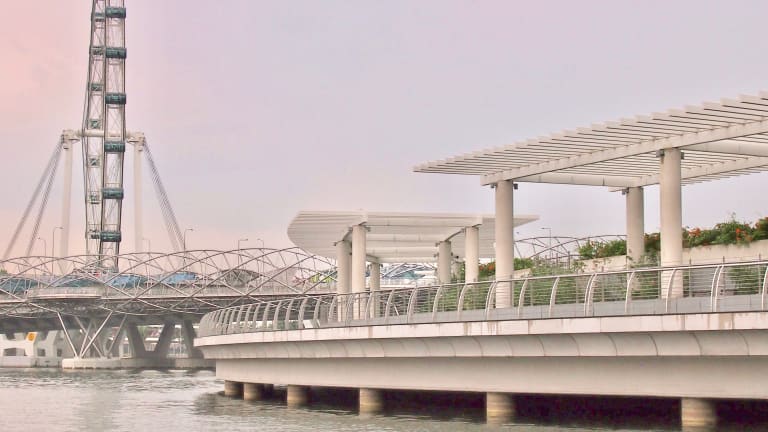 Trend Alert: Crazy Rich Asians
Singapore Shines Bright this Summer
Looks like we have a big trend on our hands. Crazy Rich Asians is officially taking over summer. I started reading the first book in the Kevin Kwan trilogy when I was in Paris and I was hooked. I tore through book two and just saw the movie. I'm 100% into the trend of celebrating Asian culture and all things Singapore.
Trend Alert: Crazy Rich Asians Takes Over Hollywood
And it's about time. I was shocked to learn this was the first major studio release with an all-Asian cast in 25 years (the last BIG movie was Joy Luck Club)! It's good news that the Warner Brothers film has been killing it at the box office. Crazy Rich Asians beat all expectations by ending its opening weekend as the number one movie in the U.S. and Canada and taking in an estimated $25.2 million. One of my favorite actors from the movie, Awkwafina sent out this tweet.
While I've loved seeing the Asian community rally around this film, it's not just fun for Asians, this movie and this book and this MOVEMENT are pure entertainment gold. The books are the best kind of "chick lit." Our heroine, Rachel Chu, is girl is smart, sassy and a bit of an underdog. In the movie, Constance Wong is a delight. She's Julia Roberts and Renée Zellweger rolled into one (I'm referring to Pretty Woman and Bridget Jones). Unlike past heroines, she doesn't need  a man to save her (but God bless the swoon-worthy Henry Golding for trying). I just love her pluck! Oh, and her killer wardrobe.
See the Crazy Rich Asians Movie Trailer Here:
I just saw on Twitter that Jon Chu just got the go-ahead on movie #2. I can't wait! Find out more about the movie here http://www.crazyrichasiansmovie.com/ 
Get the three-book series by Kevin Kwan here - what are you waiting for! There's still a few weeks left of summer!
Momtrends Goes to Singapore
Audiences are also falling for the destination from Crazy Rich Asians. Back in 2012 (I'm such a trendsetter!) we took the kids to Singapore as part of our great month-long tour of Asia. Singapore is one of the most fascinating cities I've been to. It's pristinely clean, and a melting pot of cultures. The food is insanely good and it's also an incredibly safe destination.
When it comes to trip planning in Singapore, I didn't have a billionaire's budget. But we did plan a pretty posh trip. Some of the highlights include the River Cruise and a trip to Universal Singapore. Read about our trip here.
Where to Stay in Singapore
I can't blame you if you are ready to book your trip to Singapore after seeing this movie. We stayed at the delightful Fullerton Hotel in Singapore. Check out the full Momtrends review here. The rooftop pool was the girl's favorite thing! It was the closest thing I got to living like a Crazy Rich Asian.
Check out these photos from Singapore
Pin it!
Use pinterest to organize your reading lists and the movies on your watchlist.
This Showing Up for Movies Matters feature is not sponsored.