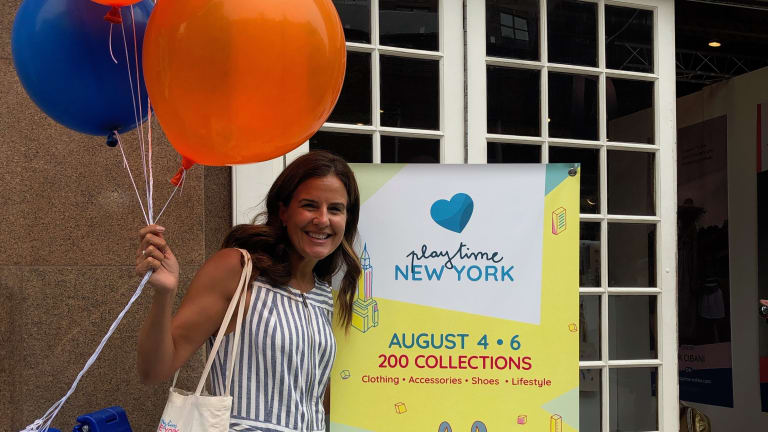 Top Trends from Children's Designers
Hunting for the latest trends at the Playtime NYC show
Every day I get 200+ pitches in my inbox. At this point, it's easy to delete the things coming from big-box retailers. I want small stories and I want to help the little guy. J.Crew, Target, Amazon -- they know how to contact my marketing team when they need me. I want to focus my time roaming the aisles at Playtime NYC looking for the top trends from Children's Designers.
The Playtime NYC show
Playtime is an international children's and maternity trade show, which takes place biannually in New York. I try to go at least once a year, but I can't always schedule it in. When I DO make time to attend, I'm always inspired. The clothing and accessories are lovely and the cure for what ails me when it comes to overconsumption.
The show strives to fill their spaces with brands that offer style and uniqueness. Things tend to be expensive and produced in small batches. If you like the trend of knowing your farmer and meeting them at farmstands, this is along those same lines. At this show, you can meet the designer. 
In all, there were more than 200 fashion and lifestyle brands at the event. I did a lightening round tour of the show and these were my favorites. 
Top Trends from Children's Designers 
Here are a few brands I'd like to highlight from my visit to the 2019 Playtime Event.
Petite Amalie: Sweet and simple fashions from this Australian brand. https://www.petiteamalie.com/
January Moon has expanded beyond lovely teething jewelry to produce accessories that include wood-accented feeding utensils.https://www.januarymoon.com/
Veja sneakers: Trendy sneakers for everyone in the family. I loved the metallic accents and easy-on velco design. https://www.veja-store.com/
Meri Meri: The sweetest toys and home accents. I wanted to stay awhile and play dress up. https://merimeri.com/
Sticks: Fashions and home goods made in Guatamala--colorful clothes that are ready for play and a company that focuses on doing good in the world. https://www.madebysticks.com/
Luna de Algodon: All the prints are influenced by nature and produced on the softest Pima cotton. https://www.lunadealgodon.com.pe/
Oh Really!: A cool concept from France. Sticker art that won't wreck walls and that fosters creativity. https://www.oh-really.fr/
Everbloom: From crowns to pillows, the whimsical brand makes everything it touches sparkle. https://everbloomstudio.com/
Pehr creates clever and cute storage for babies and tots. The design is sophisticated. I raced home and ordered some bins for my teens. https://shoppehr.com/collections/bins
Olliella: Woven storage that harkens back to a simpler time, paired with toys and dolls that are 100% unplugged. I love the muted palette. https://us.olliella.com/
Bottled Blond: Quality hand-crafted jewelry for girls and boys in eye-popping colors and kitschy designs. www.bottleblond.com/
Win it!
Here's more of what I love. I have a twin duvet & sham in this fun princess print from Snurk and a Nanos doll. 
The Princess Duvet Cover Set shows the world what you truly are: a beautiful princess. Go ahead and doze off, dream of your castle and pretty white horse. But first make sure you are lying perfectly underneath your diamond tiara. What a sleeping beauty. ($119)
Find out more about Playtime
https://www.iloveplaytime.com/newyork
The Playtime Trade shows take place in Paris, New York and Tokyo. Playtime produces the premier trade shows for kid's fashion and lifestyle. They are dedicated to independent and creative children's brands.
More Small Brands from Momtrends
Pin it!
Use Pinterest to save your favorite Momtrends features.
This Top Trends from Children's Designers feature is not sponsored.