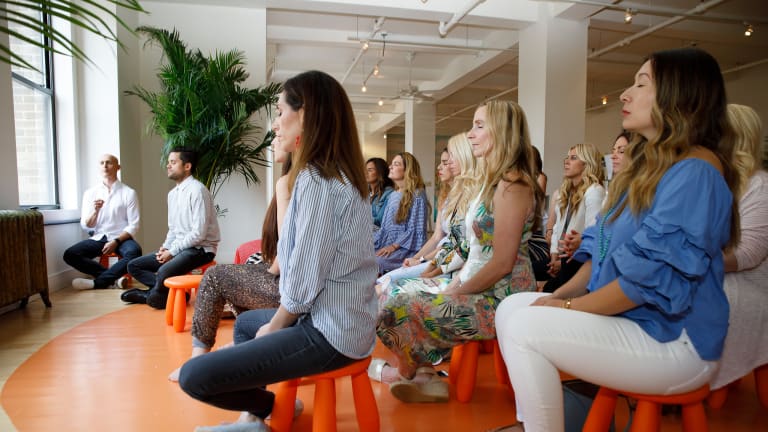 Top Mom Friendly Meditation Tips
I want to make the time with my girls count, that's why I'm investing time with the Headspace app.
It's so easy to advise your friends to "live in the moment." I think we all aspire to be parents that are truly present with our families. I'll be the first to admit I am a work in progress when it comes to mindful parenting. I want to make the time with my girls count, that's why I'm investing time with the Headspace app. This week my team and I hosted the Headspace crew for a day of mom friendly meditation tips here in NYC and I want to share what we came up with.
Related: How to put a bit of romance in your day
Momtrends Parenting With Headspace
Why Meditation? Let's Talk Stress
Prior to the event, we conducted a parenting survey. We reached 300 moms and found out what is stressing them out. At our influencer event in NYC, we shared the results of this survey to shine a light on how tough it is to be a mama these day.
Summer Is the Season of Stress 
Would you be surprised to find out 40% of us are stressed out most by the summer months? The next two most stressful times were back to school and the holidays. While we may be all smiles at this influencer event, back at home we are all dealing with the same situation - three months of no school!
The moms we surveyed said the biggest summer stressor is change in routine (40%). Next up was too many activities (this stresses 19% of us) and then the fear of brain drain (15%).
When it comes to what stresses the kids out, 46% of us say our kids are stressed by the change of routine and 34% by boredom (that sounds about right!).
Parents also shared their hopes for the summer. What we most want is quality time together (37%) and I loved that we also want to start a new family tradition (17%). 
Top Mom Friendly Meditation Tips
While our blogging friends mulled over these stats, we sat down to a lovely lunch and started to talk about ways to improve life. Here at Momtrends, we are all about solutions.
We called in an expert to help us out: Andy Puddicombe the Co-Founder of Headspace. Andy's story is pretty cool. He's a Brit who became a Buddhist monk. He took his personal practice and decided to share it with the world. Headspace started with retreats and small events and has grown to now reach 30 million people a year on the app.
Back in 2012 Headspace was the first meditation app on the market. In the past six years, they've listened to users and those of us who are stressed out, and are constantly tweaking and improving the app. The end goal: "to improve health and happiness around the world."
We were lucky enough to have Andy (the voice of Headspace) lead us in a bit of meditation and share his tips to navigate summer with a bit less stress.
Five Mindful Parenting Tips for Summer
Daily Meditation: This practice only takes 3-10 minutes a day using the Headspace app. Studies show meditation reduces stress, anxiety and anger while increasing compassion and happiness. Momtrends Tip: I find setting up a standard time (at the end or beginning of the day) really helps. If you just think, "oh, I will do it later" you won't. Trust me. Set an appointment with yourself. Consider it a bit of self care.
Device-Free Dinner: Have the whole family commit to turning all the screens off. You'll find the conversation and the food a lot more enjoyable. It's a chance to slow down and check in with your family.
Mindful Eating: Summer is the season of the best fruits and veggies. Now is the time to really taste them. Start by unplugging and engaging with the kids. Ask them to tell you where the food comes from, where it is grown. Next, give them the freedom to truly express how it tastes.. If you have the time and energy this summer, try growing some of your own food to take this to the next level with this raised garden.
Journal: Start a gratitude journal about your family. Before you go to bed, write down one thing your child (or spouse) did that was fabulous. Or add a character trait that you admire. Start this at the beginning of summer and give it to your child right before school starts. Studies show gratitude journals have been shown to aid sleep and even help you feel more rested and relaxed.
Breathe: Taking 30 seconds to stop and focus on your breath can de-stress the entire family. Simply take 10 deep breaths, in through the nose and out through the mouth. In 30 seconds you can defuse a situation that might have ended up in yelling or tears. 
What You Get From a Paid Headspace Subscription 
Access to the full Headspace Library, which has hundreds of meditations, mindfulness exercises and animations to help you build the practice
Over 30 packs of themed meditations on specific topics like stress and sleep
Dozens of one-off exercises designed to add more mindfulness to your day. Super-short mini meditations you can do anytime. Great for busy schedules
Sleep Sounds that help ease the mind into a truly restful night's sleep
Animations that guide you through essential meditation techniques and bring to life traditional stories like the Very Impatient Yogi
Continued guidance from former monk, and Headspace co-founder, Andy Puddicombe
I hope you'll join me on this mindfulness journey. As always, we're in this together!
Parenting with Headspace Momtrends Event Photos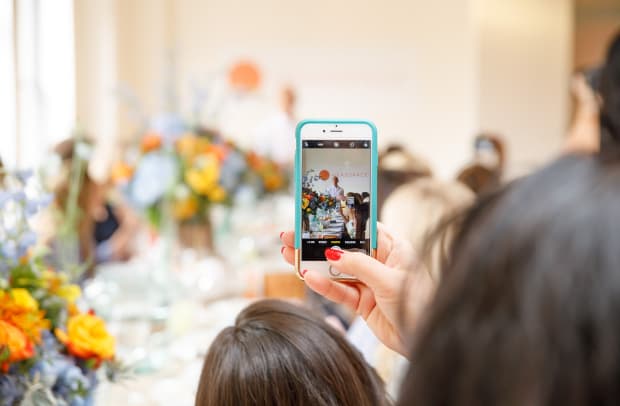 WANT MORE FROM MOMTRENDS?
PIN IT!
Use Pinterest to save your favorite ideas from Momtrends. Be sure to follow our Fitness and health board here.
This Top Mom Friendly Meditation Tips feature is a sponsored post.