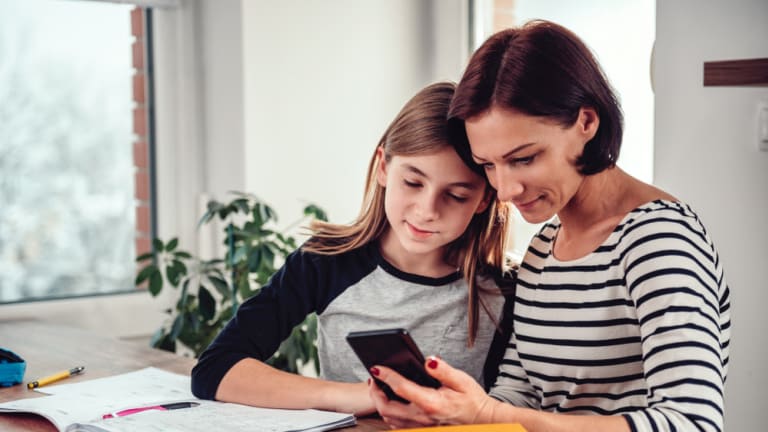 Top Apps to Help Parents with Homework Problems
The Top 5 Apps Parents Are Downloading to Help Their Kids' With Tough Homework
As parents are having to become fill-in teachers, many of us are overwhelmed. The homework they are assigned is often more than we bargained for. I know 6th grade math is not what it used to be.  The math my daughter is learning looks completely new. And now my freshman in high school's science is also tough -- I can't remember anything about chemical compounds.
Related: A growing list of activities to keep your kids active when school is out.
Top Apps to Help Parents with Homework Problems
Thankfully there's an app for just about every homework issue. 
Being unable to answer their questions, and seeing the confusion in their eyes, makes us feel incredibly helpless. While relearning the material with them is definitely a great exercise for our brains, sometimes we're just not going to get it. 
The Khan Academy app is great for students who might have missed, or didn't completely understand, a lesson as well as parents who want to help but don't quite understand the material themselves. Through Khan Academy, students and parents have access to multiple lessons, lectures, and reading material covering a broad amount of subjects. All of the material is available for download for people wishing to continue the studying process offline and away from distractions.
 Smartfeed allows parents to customize media playlists for their kids based on their child's interests, education, and character traits. Through this app, parents create a visual learning experience that their children can access at home in order to continue engaging their brains as well as encouraging them to seek out more educational material themselves!
Powerschool allows parents and students to manage school grades and reports while also keeping parents and teachers under a close line of connectivity. Parents are able to view handouts, attendance records, bulletins, and other school-related information to keep up to date on their child's activities while students have a transparent view of where they might need more assistance from other resources.
Brainly is an online learning mentoring platform connecting students, parents, and teachers with peers and subject matter experts, to lend a helping hand on seemingly impossible assignments. Through this app, many students who felt lost in common core subjects were able to advance in their studies and even become a peer mentor themselves! That's good parenting!
Parenting Hero created by adult-to-child communication experts Joanna Faber and Julie King, is an app showing parents how to create better communication practices with their children. Many times, while trying to help children with their homework, parents in their own confusion may experience moments of frustration, which they accidentally take out on their child. This app helps to keep tension low and resolve unneeded conflicts before they arise, allowing parents to help their child as best as they can.

Getting a little help is an awesome learning lesson

Research shows that students are more effective in school when their parents take an active role in helping them learn at home. That's a heavy burden to lay on moms and dads, but thankfully all these apps are effectively relieving some of the stress and frustration that goes along with helping kids complete tough homework assignments.
I'm happy to ask for help when I need it and I'm teaching my kids to be resourceful. Help is often just a swipe of the phone away.
WANT MORE FROM MOMTRENDS?
PIN IT!
Need more ideas on what to do with the kids? Be sure to follow our Activities to Do with the Kids board on Pinterest here.
Momtrends was not paid for this post.