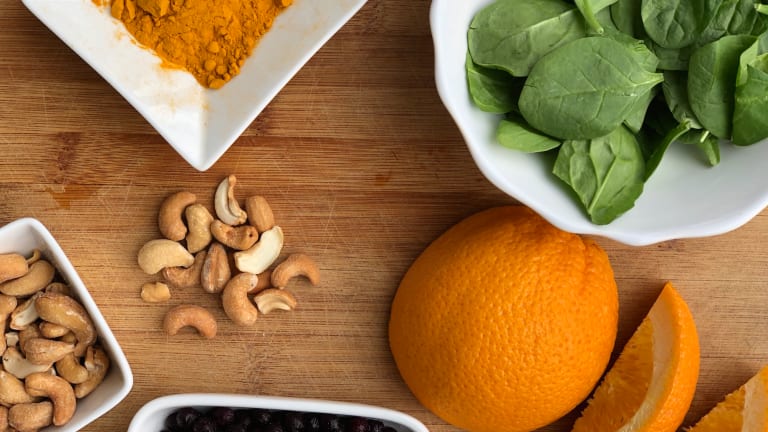 Fight Inflammation Naturally
Incorporate these anti-inflammatory foods for better health
Inflammation is the source of pain for so many people suffering from chronic illness. Unfortunately, I go through periods of cyclical arthritis and when I am dealing with a flare-up the pain affects how I handle my daily responsibilities. To find relief and ways to reduce my "down-time" I have been investigating natural and effective remedies for relief from the pain and stiffness. Whether the inflammation is happening in the joints, gut or elsewhere, changing how you eat can lead to a reduction in inflammation and relief from pain and other symptoms like immobility, stiffness and discomfort. The old adage of "you are what you eat" circles back time and time again. 
The good news: there are ways to fight chronic inflammation naturally, in a drug-free way that doesn't rely on anything but wholesome, whole foods that can easily be incorporated into your daily diet. We choose to buy our foods fresh, either from a local farm so we are eating seasonal food where we can ask questions about how it's all sourced, or we shop at stores dedicated to providing organic, fresh foods.  
Let's take a minute to first talk about what you should immediately weed out of your diet if you're dealing with chronic inflammation. The top food groups that cause inflammation (and that should be reduced and ultimately eliminated) may not come as a total surprise, but will serve as a helpful reminder to help you on the road to better health and overall wellness. 
TOP FIVE FOODS THAT CAUSE INFLAMMATION
Refined carbohydrates, such as white bread and baked goods
Fried foods
Sugar-sweetened beverages
Processed meat (hot dogs, sausage, bologna) and Red meat (steaks, etc.) 
Margarine, shortening, and lard
Once you work to eliminate foods that are causing inflammation you can work to incorporate greater amounts of anti-inflammtory foods into your food regime. There are several foods that boast anti-inflammatory properties and offer natural and effective relief when adequately consumed. 
TOP FIVE ANTI-INFLAMMATORY FOODS 
Nuts (They should be Raw or roasted in olive or coconut oil not canola or other potentially more processed oils)
Berries such as blueberries, strawberries or raspberries (We flash freeze our berries in the summer to try to stretch out our crop.)
Leafy Greens such as Spinach, Kale or Boston Lettuce
Tumeric-Try Googling recipes to incorporate this spice into your regime-we are big fans of Carrot and Ginger soup
Citrus fruits such as oranges, grapefruit or mandarins (boost your water with lemon!)
To find other ways to treat our bodies well, we are reading the Farmacy Kitchen Cookbook to find more plant-based recipes for conscious living that promotes wellness, health and balance.
 Think food as your new natural go-to medicine for prevention, remediation and extinction. Feel Well Mamas! For more information on living well, check out our post on natural remedies for fighting acid-reflux. 
This is not a sponsored post.  This post contains affiliate links.