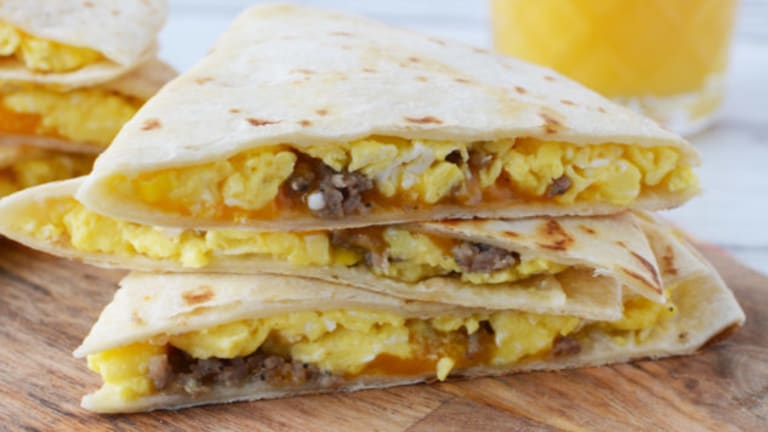 Top 10 Hearty Breakfast Recipes to Make in the Winter
Whether you are planning to ski or sled, these hearty recipes will start your winter day off right.
It's not surprise that winter is my favorite season. I've been publishing a ski guide for the past seven years and I'm always planning my next winter ski trip. Winter workouts are awesome and they also require good fuel. I've tapped some of my ski mom friends to round up this amazing list of the top 10 hearty breakfast recipes to make in the winter. 
I was inspired to write this article thanks to some amazing breakfasts I've had while on ski trips. Two of my absolute favorite places for breakfast are the Sonnenalp Resort in Vail and the Giardino Resort in St. Moritz. These resorts know how to create a mix of sweet and savory options along with warm dishes. When you've got good stuff inside, you just know it's going to be a great ski day.
Top 10 Hearty Breakfast Recipes to Make in the Winter
Overnight French Toast Recipe
With a base of butter and brown sugar that smells amazing as it caramelizes in the oven, this twist on a classic can feed a crowd. Get the recipe here.
Make Ahead Breakfast Burritos
From Amy at MomAdvice I love that these can also be wrapped in foil as a to-go option. One batch of these freezer breakfast burritos can yield 15-18 burritos. This recipe can be personalized. Get the recipe here.
Crockpot Overnight Pumpkin Oatmeal
Tammilee is know for her hearty recipes and this one is a favorite. Plus, we love anything we can make in the crockpot. Get the recipe here.
Hot Chocolate Pancakes in a Jar
This one from Joylnne Shane also makes a great hostess gift. Get the recipe here.
Chocolate Pumpkin Break
I'm always inspired by the way Christine Koh bakes, I can almost SMELL this bread from the photo. This recipe from Boston Mamas will surely wake up hungry teens in the winter. Get the recipe here.
Blueberry Avocado Smoothie Bowl
Hearty doesn't have to mean loaded with fat and calories. This one from 5 Minutes for Mom is on the healthier side. Get the recipe here.  
Breakfast Quesadilla
Audrey from Mom Generations has 5 kids, she knows a thing or two about cooking for a crowd with simple recipes that are sure to please. Get the recipe here.
Cheese Egg Poofs
If your kids are itching to get out into the snow, this recipe is for you. These bacon and egg cheesy poofs bake in just 15 minutes, and they can also be easily varied with assorted cheeses, herbs, etc, to create different flavors. Get the recipe here.
Meal Prep Breakfast Sandwiches
Another one from Amy at Mom Advice. These can be frozen and ready to go in a snap. Get the recipe here.
Breakfast Egg Muffins with Sausage and Veggies
No more cold breakfast for mom. You can feed everyone nice hot eggs at the same time since you're cooking a dozen in a muffin tin. Yum! Get the recipe here.
MORE FROM MOMTRENDS
Pin it!
Use pinterest to save your favorite recipes ideas. Be sure to follow our Recipes to Inspire Board here.
Momtrends was not paid for this post.