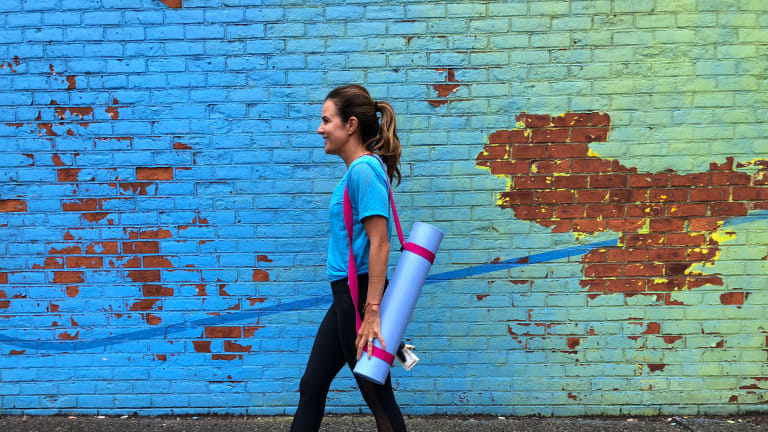 Tips for Working on Summer Self Care
Yoga Time with Peach Active Clothing
This has been a transition summer for our family. Without sharing too much that isn't mine to share, we have a lot of change on the horizon. One way to deal with this is to dig my heels in and fight it. I'm attempting to do it the other way. The best I can do is work on me and be there for those I love. Since I'm knee deep in this, I thought I would share some tips for working on summer self care. 
Summer Self Care Tips for Moms
Meditate: The less structured nature of summer makes it perfect to get lost in the moment. Which is great, but can also mean the moments get less intentional. Get more tips on meditation here
Take on a Challenge with Friends: This summer I joined girlfriends to take on the 5K Tough Mudder Challenge. I spent about 30 days doin a training program (with my team) and completed the race last weekend. It was the perfect playful goal for the summer.
Get in some kid-free travel time: I adore showing my kids the world, and we had a fabulous trip to Portugal. I also need some one-on-one time with Mr. Momtrends. We use sleep-away camp to give us the time and space to travel together and focus on our marriage. It's an important investment.
Read a good book: We instill a reading hour during the summer. If the kids are around, we set a good example by joining them as we all dive into a good book. I just finished Crazy Rich Asians, for more fun summer reads head to this post with our book club picks for the beach. 
Get your Sweat On: I've been working in heated yoga and Soul Cycle classes this summer. Since my running mileage goes down in the summer (it's too hot and my running buddies are all on different schedules), I slot in some new classes. I've been loving the heated flow classes at Yoga Vida. They heat the room to 85 degrees and play great music. It's been a summer treat for me. 
Now tell me? What are your summer self care rituals?
What I'm Wearing for Summer Self Care
The new yoga outfit is from Peach, a new activewear company. The clothes are trendy and affordable. I'm wearing the Copa Top it's super lightweight and perfect for getting to and from a sweaty class like Soul Cycle or heated yoga. The breezy cut can be cinched in with a simple knot on the side. 
I paired it with fun Vera Power leggings. They are great for both the classes I've been taking. I love the mesh sides which makes the style cool and comfortable. 
As a Peach Ambassador, I have a link to share where I will earn a percentage of the sales. Head here to shop and support Momtrends while you are doing something great for yourself. https://www.discoverpeach.com/a/nicolef
Pin it and Try It!
Use pinterest to save and organize your best ideas for managing mom life.
This tips for working on summer self care is not sponsored. Some of what is featured was gifted to me by brands.