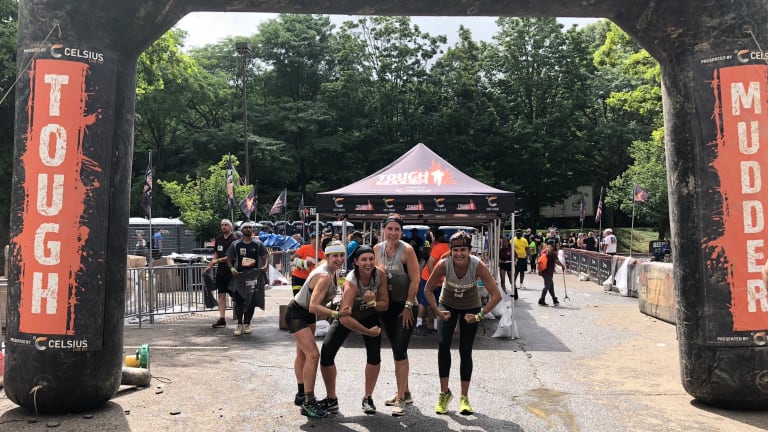 Tips for Tough Mudder 5K Challenge
Setting new personal fitness goals
Sign Up for Your Tough Mudder 5K
If you are in a workout rut, or just going through a mini mom crisis, you've just got to give the Tough Mudder 5K Challenge a try. Give yourself a month to get ready and lasso in some friends. Trust me, you'll have the time of your life!
Head here to sign up for a Tough Mudder 5K Challenge
We did it! We finished the Tough Mudder 5K Challenge! I joined three friends to take on the course in Long Island and we had a blast. And we got really, really muddy. And we learned we CAN do really hard things. I want more friends to do this and I'm going to give you tips for the Tough Mudder 5K Challenge.
Race day was pretty perfect. A nice cloud cover rolled in during the morning to cool things off on the East Coast. My friends and I drove from Brooklyn to Long Island for the event. The instructions and pre-race events are very organized. Momtrends tip: give yourself about an hour from arrival at the parking lot to your race time.
We shuttled in a school bus from the parking area to the race area and then started the check in process. It was pretty smooth sailing (don't forget your ID) and we went to check our bags and get ready. 
Pre-Race Tough Mudder 5K Challenge
Tough Mudder is set up in waves, so it's never very crowded at the start or at any of the obstacles. Before we set off for our 9:30am start, we got a pre-race pep talk. The gentleman in charge gave us a very inspiring talk (he sounded like a marine getting his troops ready) and reminded us to be safe and work as a team. Turned out to be really great advice.
We were mixed with folks doing the 10k race and 5k race. I am absolutely thrilled we started with the 5k. Though I don't think I would've had troubles with the running distance (I regularly run half marathons), I doubt I was ready for 10 more physical challenges!
And we were off! Everyone started at either a VERY reasonable jog or a walk. The course quickly split into two, one side for the HALF (a 10K) and the other for the 5K CHALLENGE. We were quickly diving into mud for the first obstacle - a belly crawl under barbed wire through some very sloshy mud puddles. It was great to get the mud out of the way early. Once you are a mess, it's easy to embrace the spirit of the race.
From there is was scenic run through the Bethpage Fair Grounds punctuated by some physical challenges (I'm really, really, glad I took the pre-race training seriously). There were lots of things to climb and slosh through. I thought the piggy back portion was tough! My training partner and I alternated here and my legs were TIRED after this. 
Along the course there were lots of high fives and support. It was like being back in my sorority. 
The toughest challenges were the walls. Since we didn't have any guys on our team (and let's face it they have more upper body strength), we had to rely on joining up with other teams to get over some of the walls. The curved wall was particularly challenging. I had to psych myself up to just go for it. Running straight up the wall and hoping that the guys up top would grab my hand at the right time.
They did! 
Shout out to the "Black Flag" team that helped all four of us over the big wall. They were celebrating a 30th high school reunion. All the guys were ex-football players and they ran the race with their 65 year old coach. It was pretty cool meeting all the other teams along the way.
All in it took us about an hour to get through the course. We had a blast and were completely filthy and completely elated at the end. It was a fantastic physical and mental challenge and the perfect way to shake things up for me.
I'm definitely going to do another one, and I'll definitely recruit more women. It's a badass way to be anything but a boring mom for a day.
Tips for Tough Mudder 5K Challenge
1. Form a team. Ideally you'll have a team of 4 or 5. You'll need these buddies to get over, under and through the obstacles.
2. Train. Start the workout plan 30 days before the event. You can get workout tips and prep tips here https://www.momtrends.com/living/taking-first-tough-mudder
3. Suit up. Design a shirt for your team. We used Custom Ink for these Momtrends shirts. Don't wear shorts, there's a lot of climbing and crawling and you'll be happy to have covered knees.
4. Plan your footwear. Set aside shoes that you don't mind getting dirty. Merrell designs shoes just for Tough Mudder. I wore old running shoes that I was then able to donate after the race.
5. Designate a driver. There is beer after the race. You only get one, but for some smaller women, that's a lot. I don't drink much beer so I gave mine to a friend. 
What to Expect from the Tough Mudder 5K Challenge
You'll be challenged, you'll make new friends and you'll be spent at the end. It's a wonderful day and so much cooler than a 5K. As someone who dabbles in triathlons, I can attest that this is WAY better, since there is hardly any gear involved. Plus, it's been a long time since I embraced playing in the mud!
After the race, I advise heading to the hose-down area sponsored by Soap & Glory. While the water pressure was fairly lame, I was able to at least get the base layer of dirt off my body. I was very glad to have packed flip-flops for the after-party!
I planned to dump my sneakers after the race and I was glad they had a huge donation bin. After I toweled off, I headed to the changing area to slip on a new pair of shorts and a fresh t-shirt. I wasn't really clean per se, but I was at least in a position to not ruin my car. 
Scenes from the post-race area:
What to Pack in Your Tough Mudder 5K Challenge Bag
Flip flops or other dry shoes
A small towel
A change of clothes
A plastic bag for your wet, dirty things
Ready to sign up? Head here to find a race near you!
Pin it and Try it!
Use Pinterest to liven up your workouts and inspire you to try set new personal fitness goals. 
This Tips for Tough Mudder 5K Challenge feature is sponsored by Tough Mudder.  This post contains affiliate links and I will be compensated if you make a purchase after clicking through my links.