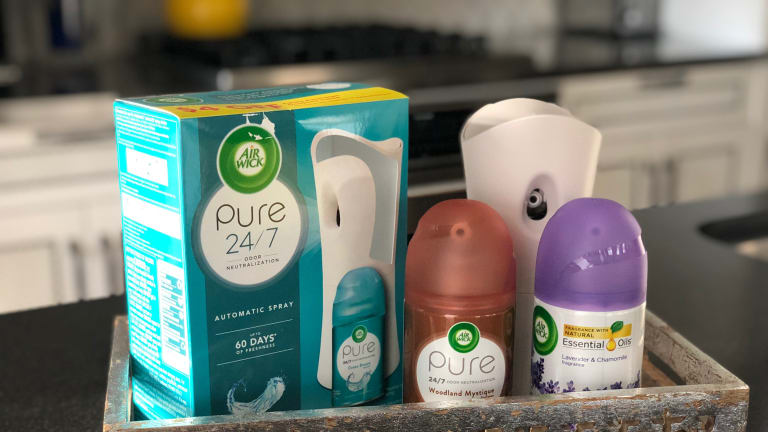 Tips for Keeping Your House a Zen Zone
Air Wick® Freshmatic Pure Automatic Spray helps moms 24/7
Moms work hard. First, let's talk facts. According to the 2016 survey Pew Research, moms are working harder outside the home AND spending more time on child care. I know it feels this way for me. I run Momtrends, am the CEO of the family and try to take care of myself. It can be a lot, that's why I'm sharing my tips for keeping your house a zen zone.
Moms are Working Harder than Ever
Pew Research says, in 2016, moms spent around 25 hours a week on paid work (up from nine hours in 1965). At the same time, they spent 14 hours a week on child care (up from 10 hours a week in 1965). On top of that we want a clean house and to feed our family nutritious meals (don't even get me started about making time to work out).
The good news is that there are ways to stay on top of the modern motherhood game.  
Tips for Keeping Your House a Zen Zone
Purge: Marie Kondo is on to something. The less stuff you have, the less stuff you have to clean and organize. Use summer as a time to donate and de-clutter.
Get organized. Designate "homes" for everything. Remember the quote "everything in its place and a place for everything" ? It's a good one from Ben Franklin. When your kids and partner know where things "live" they will be empowered to place things back HOME. Take it to the next level and discretely label where things belong.
Map it out. Digital calendars are great when you are out and about, but a kitchen family calendar is essential. It takes responsibility off of mom and puts shares it throughout the family.
Practice mindfulness: Air Wick® hosted a meditation event with expert Gabby Bernstein.  Gabby suggests taking a 5-minute tech break once a day. During the break, she's got an easy mindfulness technique called PEACE BEGINS WITH YOU! This technique is a fantastic Kundalini meditation that's fast, simple, and effective. Gently press your thumb against your index finger, then your middle finger, ring finger, pinkie finger. When you touch your index finger, say: PEACE. When you touch your middle finger, say: BEGINS. When you touch your ring finger, say: WITH. When you touch your pinkie finger, say: ME. Breathe deeply as you say each word. Go as slowly or as quickly as you'd like.
Power up the scents. Did you know scents can illicit powerful emotions? It's true! Studies have shown that "the sense of smell can be used to reduce tension and stress." 
A more zen mom life
When it comes to working on stress relief, I like that some of this list is easier than the others. Why not start with a great-smelling home. That's where Air Wick® Freshmatic Pure Automatic Spray comes in. It's an easy way to fill your home with continuous, fresh fragrance for up to 60 days.
It's simple to set up. The Air Wick® Freshmatic Pure Automatic Spray works on the "set it and forget it model." In a few minutes, you can load the batteries and a fragrance. Then you'll get 24/7 odor neutralization in your home.
The device looks nice. There's nothing tacky about the white device that blends in with most decor. Once it's set up, it provides up to 60 days of continuous fragrance on minimum setting
Using Air Wick® Freshmatic Pure Automatic Spray
In addition to my other roles, I also am queen of the kitchen. I love cooking and that often brings some special smells into the house -- like fish! Luckily, Air Wick® has me covered 24/7 with continuous odor neutralization. I used to rely on lighting a scented candle after I cooked. Now thanks to Air Wick®, I have a spray that fills every corner of the room without any work from me.
I can pick from three settings (I use the lowest one) and I can turn the device off when I'm away from home for a few days. I like to personalize the scents. There are 15 unique fragrances to fit any mood.
With a little planning you can turn your house into a zen zone. Find out more the Air Wick® Freshmatic Pure Automatic Spray here  https://www.airwick.us/products/automatic-sprays/
Pin it! 
Use pinterest to save your favorite parenting features to help you lead a more zen life.
This Tips for Keeping Your House a Zen Zone post is sponsored by Air Wick®.