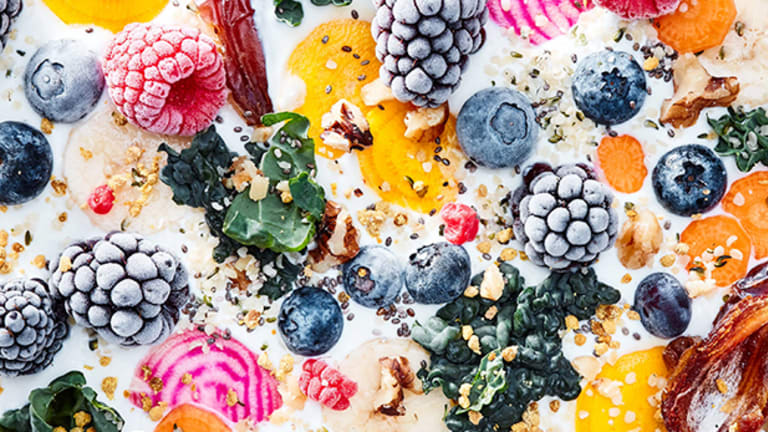 Q&A With Foodie Mom and Founder of Weelicious Catherine McCord
How to raise healthy, happy, curious eaters
As a mom to three, author and blogger, and co-founder of meal-kit company, One Potato, Catherine McCord knows a thing or two about being stretched thin. Still, she manages to get delicious, nutritious food in front of her family every day. We reached out to Catherine for tips to packing healthy lunches on a budget, persuading the picky eater, and getting a delicious dinner on the table seven nights a week.
Related: Check out our review of Catherine's One Potato Meal Service
What advice do you have for moms who have maybe, thus far, failed at their New Year's resolution to serve their families better, healthier meals? How can they get a 'do over' and start making healthier meals their children will actually eat tonight?
Take away the beating yourself up. Most moms feel like I'm a failure if they didn't like the food. Start with a list. Ask them what they do like. You have to lead them down the path. But once you figure out those 10 things, and how can you nutritiously incorporate them into different meals and how to reinvent them so you know they're going the love the basics. Like, pasta—how can you use pesto to get protein in there?
What advice do you have for moms of picky eaters who are struggling to get good food in their kids diets every day?
Getting them involved in any way is going to help. We decide that they're going to school, that they're going on play dates; we decide the clothes they're going to wear. So when you put food in font of them, it's the one thing they can rebel against. We can involve them by getting them to the grocery store. Let them pick a new food they want and then get it and talk about it. What does it taste like? Do something silly about it. Our kids want things to be funny and silly and special—to see their parents doing silly things. Taking the pressure off things helps a ton.
You are a big advocate of smoothies. But many recipes have tons of ingredients that can make them take too much time or cost too much money for many moms. How do you suggest moms start their own #smoothieproject?
Bananas and milk are the most basic. People don't want to spend a lot of money—so buy a few bags of different frozen fruits so they're there. Just and try to find a few add-ins. Frozen cauliflower is good because you don't taste it. It adds creaminess and gets a vegetable in there. You can come up with names; I've got a green machine smoothie a Popeye smoothie. Have the little ones make the smoothie with you. I'm a big fan of bee pollen. It's high in protein and it's an immune booster. My kids never get sick—knock on wood. We eat it every day in our smoothie—it's a secret super food.
We see you at the farmer's market in your Instagram posts and stories every week. What insider tips do you have for shopping a farmer's market and finding the best produce?
Find a vendor who's selling things you already love and develop a relationship. They can't wait for you to try what they have. This is nature. They spend their lives growing these foods. They get so jazzed when they get a new crop. I never met a farmer who didn't want to give a kid free food. There's nothing greater for them then watching a kid eat a mushroom. Develop that relationship to say is there something new I should buy and try. A farmer is not choosing to be a billionaire—they're in it for a love of food and nature.
Tell us how your meal service, One Potato, is different from the competitors?
It's more than a meal kit. It's a meal experience. We give you organic ingredients, because I want it to be the best quality possible. We send everything semi prepared. You don't have time for grating a carrot. We are sending you them done. You still have to turn on you oven. We want kids to be involved in the experience and feeling great about. It's food you want to eat, and it cuts the time in half for Mom. We take out the grocery shopping. And we are sending you food the food you want to eat.
Your kids' lunches look incredible. How do you get your kids to eat such rich meals?
Take those 10 ingredients. If you look at my children's lunches, you can pick out the 10 ingredients they actually love. I make sure I always have them. But you'd be surprised; everyone has to have a fruit and a protein. I love the bento box because at least they open it up and it's not a brown paper bag where the fist thing they get is a cookie. Sometimes the sweet treat comes home which is surprising. Kids eat what their bodies are craving and needing. 
MORE LIFE HACKS FOR YOUR FAMILY FROM MOMTRENDS
PIN IT!
Use Pinterest to save your favorite recipes. Be sure to follow our Kid Food Pinterest board here.
This is not a sponsored post.