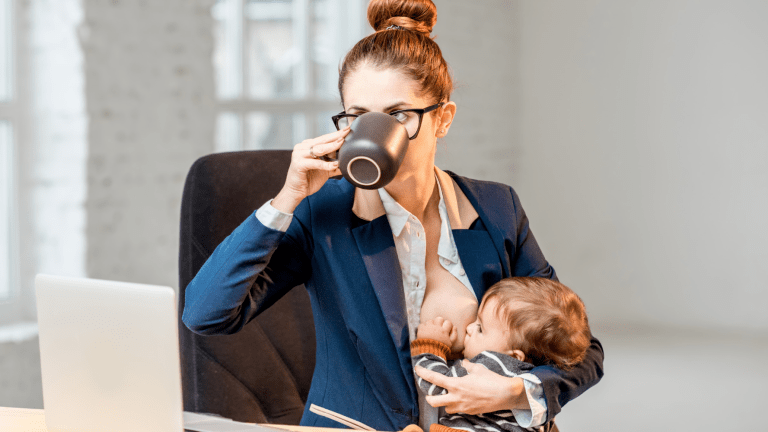 Publish date:
Tips for Nursing Moms Going Back to Work
Going back to work after maternity leave is hard enough. Add pumping to the equation and it can feel daunting if not impossible. Having a plan for this transition is very important. Create a strategy based on your goals, milk supply, lifestyle, and reality. Manage expectations and you won't put undue pressure on yourself! Here are some tips to help you on this journey.
#1 Build your stash
Start building your stash before you go back to work. Start working on your milk stash at least a month before going back, depending on your milk supply.
#2 Know your rights
If your employer does not support you, know that the law does. There are Federal and State Laws that protect nursing moms. Check this out: http://www.ncsl.org/research/health/breastfeeding-state-laws.aspx
#3 Communicate
Communicate with your boss and your team that you are nursing and that it is really important to you and your baby. Let them know how many times you will have to be pumping at work, try to stick with a pumping schedule.
#4 Make sure you have the right equipment
The pump you are using can make a difference. Sometimes renting a hospital grade pump and leaving it at work saves time, lessens work and prevents headaches. The Medela Symphony hospital grade pump is a great option.

Sleep hack to give moms a more restful night
Looking for a life hack to get better sleep? Here's my go-to sleep hack to give moms a more restful night: get better pillows. Thanks to perimenopause, my sleep has been interrupted and I was finding it hard to get back to sleep after my 3am wake-up. I lowered the temperature in ...read more
Our Best Brow Tips
If you've been on TikTok at all in the past couple of years, you know that full brows are where it's at. Sure, the 90s are back, but thankfully, the kids left that decade's overplucked brows trend good and buried. Now even if you don't have the naturally full brows you once did, ...read more
5 Pretty Ways To Organize Your Jewelry
I admit - I'm guilt. Despite my best efforts, my "jewelry drawer" has become a tangled mess of necklaces, bracelets and earrings. This cluttered collection not only makes it hard to see what I have, but difficult to untangle the pieces I do want to wear! This summer, I'm ...read more
#5 Make it enjoyable
Flip through videos and pictures of your baby. This does the trick and helps you remember why you are doing this! Listening to your favorite music and watching videos of the baby will relax you, make you smile, and trigger the letdown.
#6 Eat, drink well and take herbal supplements
Make sure you are drinking plenty of water, eating a healthy breakfast, bringing your lunch to work and always have healthy snacks in hand. Herbal supplements (capsules, tinctures, tea) help to boost your supply. Even when you are taking care of all the basics you still might see your supply dropping because of stress, anxiety and exhaustion. Supplements are a huge help to ensure you are pumping what your baby needs. Milkapalooza and Lactivist by Legendairy Milk are two favorites and you can combine them!
#7 You GOT this!
Remember how awesome you are and what a great thing you are doing for your baby and your family. Know your limits and do not put too much pressure on yourself.
More from Momtrends
1. How Breast Milk Shapes the Gut
2. Why Every Nursing Mom Needs the Right Manual Pump
3. How to Overcome the Pain Points of Breastfeeding
This is not a sponsored post. Tips by Debora Milioni, BSN, MSN, MBA, IBCLC.