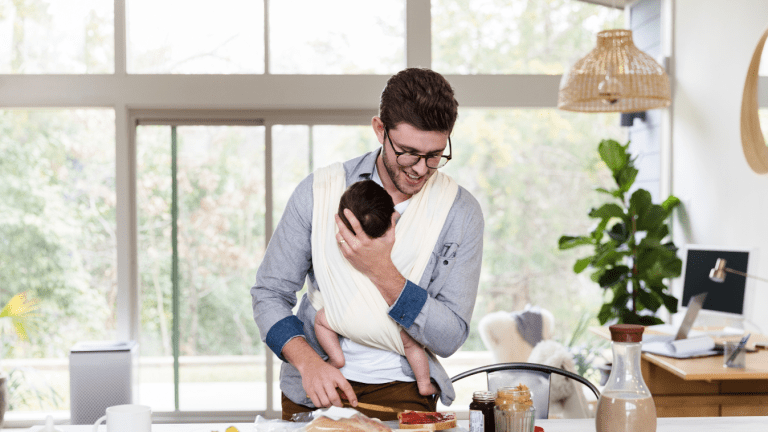 Helpful Tips for Dads-To-Be During Pregnancy
Expert tips to guide expecting fathers through the nine months of pregnancy.

Congratulations! You're about to become a dad. From now until the minute you snip the cord on your little bundle of joy, a lot of changes are coming your way. We've come up with some expert tips to guide you through the nine months of pregnancy.
Related: Check out the future of stylish baby gear
While moms-to-be get lots of support and tons of advice, many dads-in-training are left in the dark. Of course there's no way to anticipate every possible scenario, but a little dad-to-dad coaching can go a long way in helping you prepare a game plan.
First Trimester Tips for Dads to Be
Do your homework. It's okay to watch the game, but during commercials, pick up your wife's baby book and read the highlights. Learn about what's going on in there so you can discuss it intelligently with the mom-to-be. She'll be impressed, and you'll earn bonus points.
Don't be shy about talking to other guys who have been there, done that. Seasoned dads can tell you what to do, and more importantly, what not to do, to support your wife and make her feel extra special during her pregnancy. You might have to sacrifice your man card while you are in full support of the mommy-to-be. Veteran dads won't look down on you for this, they'll give you their full support. They might even offer to buy you a drink.
Be there for her. You'd rather take a kick in the groin than go to the doctor'?s office. Love hurts. Offer to go to your wife's next OB appointment with her, and pay attention to what the doctor says. There might be a test afterward.
Second Trimester Tips for Dads-to-Be
Plan ahead. If you're lucky, your boss will give you paternity leave with pay. If not, plan to take a few days off to help your wife and to get to know your offspring. You'll be glad you did.
Have those big discussions now. If you want to have a say in how things are done with your mini-me, now's the time to talk. Discuss your options with your wife and her doctor. Learn about the value of cord blood stem cells and help decide if you will bank or donate your baby's cord blood? Will your son be circumcised or not? Breastfed or bottle fed? Now's the time to weigh in.
Think about money. Now's a good time to write your will, buy a bigger life insurance policy, and start a college savings plan. The future waits for no man.
Third Trimester Tips for Dads-to-Be
Help your wife get ready for the big day. Babies don't always come on schedule. It's time to put the crib together and install the car seat in the minivan. You do have a minivan, don't you?
Think about money. Again. It's what dads do. Take a look at your financial situation, and try to set aside an emergency reserve account that will see you through three to six months of living expenses. Don't forget to review your employee healthcare benefits and add your pride and joy to the plan.
Help your wife pack her birth bag. That way, you'll be sure you have what you need to survive your stay at the hospital. After she's packed her new-mom essentials, see if there's room for snacks, a camera, a spare phone charger, the cord blood collection kit, some reading material, and a comfortable pillow. No room in your wife's hospital bag? Pack a suitcase. You could be there a while.
Fatherhood is a trip. Once you're prepared, you can relax and enjoy the ride.
MORE MOMTRENDS FOR NEW PARENTS
PIN IT!
Use Pinterest to save your favorite gear for baby. Be sure to follow our Baby Things to love board here.
Momtrends was not paid for this post