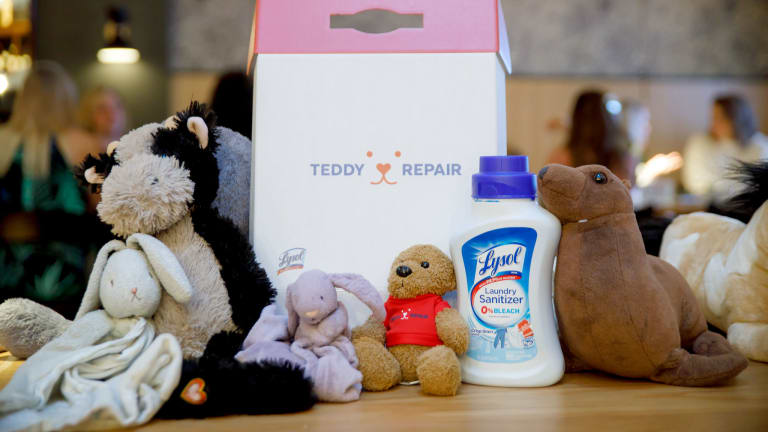 Lovies, stuffies, stuffed animals, teddy bears…these plush toys make kids feel loved, understood and safe. Parents know how important these toys are and we guard them carefully and try to keep them in good shape. 
Tips for Care and Cleaning of Stuffed Animals
Before we talk about how to clean our furry friends, let's talk about the WHY. Let's talk about keeping those bears, llamas, wooly mammoths and yes, poop emojis, clean.
Travel is a big part of our lives. At ages 13 and 11, they have been to more than 25 countries. We started early with them. Each daughter had a passport stamp by six months. One thing we learned from our travels was to bring a little part of home on every adventure. That means bringing bears, monkies and other animals all over the world.
Our "stufties" (that's what our girls call them) have seen some "tough love" – from Malaysia to Norway to South Africa. They've been dragged on the floor and even dropped in a toilet (poor Coconut the monkey...I learned to always travel with a few Ziplocs for these special occasions). I used to rely on hot water, a long spin in the dryer and prayers that the germs and bacteria were coming off the beloved critters my girls sleep with. 
Lysol® Laundry Sanitizer is a one-of-a-kind product that is safe to use on washable fabric items like Coconut the monkey. I was wrong to think that simply washing laundry and stuffed animals in regular detergent was enough. Cold water washes won't kill all bacteria, including harmful bacteria that can cause illnesses like staph infections.
Momtrends #LysolTeddyRepair Event
We gathered moms to learn about this product from Lysol that's going to make mom life even better. At the NYC breakfast we showed a video about the Teddy Repair initiative to go along with the amazing Lysol Laundry Sanitizer. Lysol shared this adorable video of the kick off of the Teddy Repair program. They partnered with three pre and elementary schools in New Jersey to set up a mobile hospital for stuffed animals and they hosted a teddy repair contest.

Five Tips for the Perfect Pumpkin Patch Visit
It's that time of the year again...pumpkin patch time! While I love a nice Pumpkin Spice Latte as much as the next fall lovin' girl...for me, the season is all about spending time with my family...and hopefully that time is spent outside as much as possible. If you're headed out ...read more
Perfect for Fall Pumpkin Spice Dirt Bomb Recipe
Get your pumpkin spice fix with this tasty dirt bomb recipe. Unlike fried donuts, this recipe is a little lighter and, since no hot oil is involved, a lot less messy. These dirt bombs, or baked donuts, are irresistible cakey muffins that are spiked with nutmeg and ginger, and ...read more
Save Money at a Ski Swap
Are the slopes in your future? If you want to save money on ski gear, consider a ski swap. A swap is a great way to buy and sell used equipment. Most swaps consist of a variety of gear, from brand new to used skis and snowboards to skis; from poles to boots to bindings and ...read more
We did our own repairs too. Do-It-Yourself (DIY) expert Mandi Gubler guided us through some quick tips for threading needles and repairing torn bears.
"As a mom and DIYer, repairing items around the home is something I do daily, but it takes on added importance when I'm fixing something for my children," said Mandi Gubler, blogger, DIY expert, and mom.
How to use Lysol Laundry Sanitizer
It's not just teddy bears, Lysol Laundry Sanitizer can also be used on most fabrics including baby clothes, towels, gym clothes, bedding and more. 
To use in a standard machine: Add 2 capfuls each filled to line 1 of the dosing cup to the fabric softener compartment or directly to your rinse cycle wash.

To use in a HE machine: Add 2 capfuls each filled to line 2 of the dosing cup to the fabric softener compartment or directly to your rinse cycle wash.
To sanitize: Add to rinse cycle and leave product in rinse cycle for 16 minutes.
Getting the Message to Moms
A big reason Momtrends was started, to share the tips and tricks I've learned so I can make life easier for YOU. I think Lysol can make us all sleep a little better. Lysol® Laundry Sanitizer is available for purchase at retailers nationwide. For more information visit Lysol.com.
Pin it!
Use pinterest to save your favorite cleaning tips.
This Tips for Care and Cleaning of Stuffed Animals feature is sponsored by Lysol.