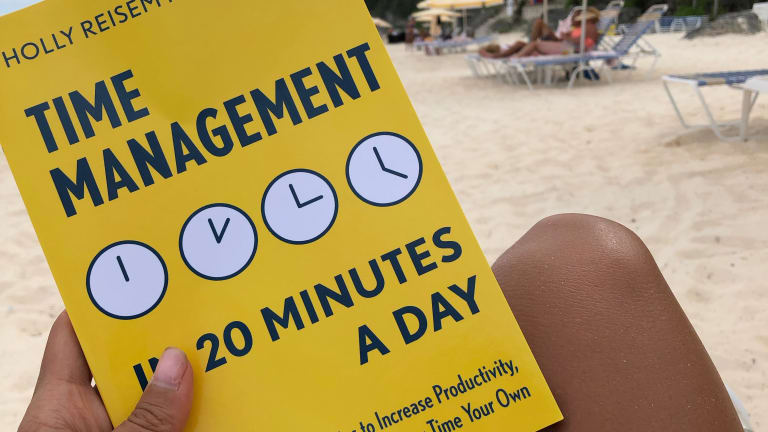 Time Management in 20 Minutes a Day
Strategies to increase productivity and make your time your own.
While in Bermuda, I caught up on so much reading. It was a blissfully underscheduled vacation and I brought along three new books. One was, Time Management in 20 Minutes a Day,  by Holly Reisem Hanna. Holly and I go back a few years, she's a fellow mom entrepreneur and the Founder of the award-winning website TheWorkAtHomeWoman.com. Her career has focused on helping moms live BETTER and work SMARTER. This book is an extension of her business model and well worth a read. 
Investing in Yourself 
Time Management in 20 Minutes a Day is a quick read and a powerful reminder of how our daily habits can make or break this motherhood experience.
I zipped through the book in about an hour. I was armed with a pen and ready to learn. I devour this type of self-help book. It's full of easy to implement systems and tips. I'm ready to get better at time management.
To give myself credit, I'm a fairly purposeful and productive person, but I know I can do better. I admit to getting sucked into the instagram abyss and feeling resentful of all the time I spend on email. 
Action Steps for Time Management
My two big takeaways: I need to get better about list making and time blocking. This year, I've added a daily meditation practice and it's really helping me manage stress. I'm also religious about my workouts. Next step is focusing my work energy to the most important projects first. Often after my morning routine, I start looking at email and social media. RED ALERT! Holly tells it like it is: 
It's so true, I'm off my game and now chasing what other people want me to do. I'm going to start scheduling my email time when I'm not at my peak.
My second actionable takeaway is to create time blocking on my calendar. My overall goal is to write more impactful features for Momtrends. The problem is, I expect writing time to magically materialize. I need a plan. Time blocking writing time  BEFORE I start reacting to what other people want from me is important. It's how I found the time to write my book, Mom Boss three years ago. 
For instance, the reminder that "one look at an email can rob you of 15 minutes of focus." Yikes. I needed to hear that the best practice is to shut off all my distracting tech when I need to do my "deep" work, such as writing and long-term business planning.
Making Time for What Matters
Packed with great quotes, Holly's book is one to share with friends.
This quote really stuck with me from the book. Holly is reminding me that I make small decisions every day which will impact my big goals. Taking time to reset my systems is valuable. That's why spending an hour with her book makes sense.
Using Time Management in 20 Minutes a Day to Form Better Practices
The book is loaded with practical tips too. Holly shares tips for everything from goal setting to how to tame your inbox. Holly suggests you break between each of her "seven impact sections." I opted to take notes in each section and formulate an action list for myself.
The book provides options. Because as Holly says, "the best time-management system is the one that works for you." Pick and chose between all the strategies in the book to increase productivity and make your time your own.
Buy your copy of Time Management in 20 Minutes a Day, by Holly Reisem Hanna on Amazon here.
More ways to get organized with Momtrends
Pin it!
Use Pinterest to save your favorite organization posts from Momtrends. Be sure to follow our Mom Boss board here.
This Time Management in 20 Minutes a Day review is not sponsored.