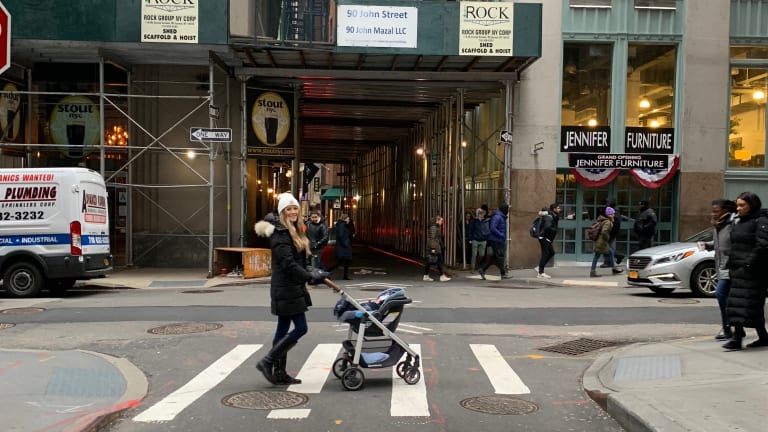 Thriving in the Winter with a New Baby
My first baby, Buckley, was born at the beginning of December, just in time for the brutal New York winter. It can be daunting to brave cold temperatures with such a tiny baby, but after the first few weeks, I knew I couldn't stay inside my apartment all the time. Cabin fever would drive me insane if I didn't start venturing out. Gradually I've built confidence, so taking him outside feels less intimidating and we both enjoy it.
I do want to note that, although going outside in the winter is normally safe in New York, it's important to stay inside if it's been advised, as it has been in parts of the country this week. If you're in an affected area, please do follow instructions and stay indoors. 
For when the weather allows, here's what I've learned so far about thriving in the winter with a baby in NYC…
1. Know the best way to bundle your baby.
Because babies are smaller and less able to regulate their body temperature than adults, they're far more susceptible to the dangers of temperature extremes. The AAP recommends dressing them in several thin layers, adding one more than an adult would wear. Don't forget a hat, mittens, and booties. My favorite booties for Buck are from Zutano—they're so cute, and so far they're the only ones he doesn't kick off. I also wrap him in the 7 A.M. Enfant Nido, a quilted wrap that he can snuggle into like a sleeping bag when he's in his car seat or stroller. The back is cut out for car seat safety, since you don't want much material between the seat and your baby's back. It looks so cozy, sometimes I wish I had one too.
2. Don't forget to bundle yourself.
When you have a new baby, you're so busy thinking about him or her that your own comfort takes a backseat. Keep your own coat and hat somewhere visible so you won't forget to grab them on the way out. (I've done it!) My 7 A.M. Enfant Warmmuffs 212 stay Velcroed to the stroller's handle, so that's one less thing to think about grabbing before I walk out the door. Plus, they keep my hands so warm.
3. Eliminate as much stress as you can from car transfers.
Getting a baby and all his or her gear into a waiting taxi or Uber before the driver gets impatient is a serious feat. When I know I'm going to be transitioning from the stroller to a car, I keep my UppaBaby Mesa car seat fitted on my UppaBaby Cruz stroller. It's really easy to clip on and off; folding the frame can be awkward, but I'm getting better at it. I recently learned how important it is to learn to install your car seat correctly—and how easy it is to get it wrong. Make sure yours is exactly right before the driver takes off into that wild NYC traffic.
4. Anticipate a stuffy nose.
It's hard to see your baby struggle with a stuffy nose! But unfortunately, it seems like it's also kind of inevitable at some point in the winter. Babies' nasal passages are so small that they become congested very quickly. A cold-air humidifier helps to alleviate the dryness at night—just make sure you clean it every time you use it.
5. And know how to alleviate it.
The Nose Frida is a "Snotsucker," which means it allows you to suck snot from your baby's nose. Yep, with your mouth. Sounds weird—and it feels weird at first—but it works. I've found it's most effective after a steam shower, a tip our pediatrician recommended. Turn the shower on high heat, close the door, and sit with your baby (outside of the shower) so he or she breathes in the steam. Then use the Nose Frida, and you're likely to get much better results.
6. Take a pit stop.
When it's freezing and I'm out walking with Buck, I usually want to get where I'm going as quickly as I can. But if it's 32 degrees Fahrenheit or below, you really don't want to be out with your baby for too long. There are stores and coffee shops everywhere in the city, so if I want to make sure he's warm enough, I duck into one, let us both warm up, and make sure he's feeling okay. No one expects you to be on time with a new baby anyway, right?
7. Don't be afraid to go outside.
Having an infant doesn't mean you have to hibernate all winter. It can be daunting to get everything together to take Buck out, but I'm always glad when I do. As long as the temperature doesn't drop too low and your baby is properly bundled, doctors say it's fine for him or her to be out in the cold. So take a walk, get a coffee, meet up with friends. There are lots of classes for babies and meet-ups for moms in the city, so look into them and get out there. You've got this, mama!
1. 7 A.M. Enfant Nido / 2. 7 A.M. Enfant Warmmuffs 212 / 3. UppaBaby Mesa / 4. UppaBaby Cruz / 5. Nose Frida / 6. Zutano Booties 
More Relevant Reads:
In light of the severe and potentially dangerous weather happening in parts of the country this week, be sure to read these Expert Tips to Keep Children Safe Outside.
For ideas for your own winter style, check out Cozy Cute Winter Dressing.