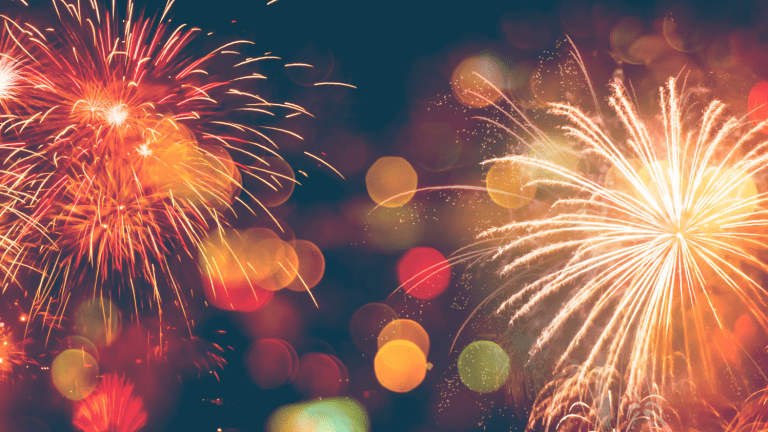 Three Tasty New Year's Eve Treats
The celebration continues...
Well, Christmas is officially over. I don't know about you, but I always get sad when the holiday season comes to a close. Luckily, we have another whole week of celebrating ahead. New Year's Eve hasn't yet come and gone, and I can't think of a better reason to celebrate than saying goodbye to one year and HELLO to the next. I get so excited about all the incredible things a new year can hold. Who's with me?
Related: Easy DIY New Years Eve confetti craft
Why we love a good New Year's Eve IN 
Now you can't celebrate the new year properly without a PARTY! That doesn't mean you have to plan a huge to do. You can party right at home with little more than your family unit (we suggest this confetti craft too). That's my fam's plan! We choose to avoid the crowds and stay at the house, but I plan on surprising the hubs and kiddos with a spread filled with tasty treats galore. And just in case you're planning something similar, I thought I would share some fun New Year's Eve treats with you!
Golden Glitter Truffles
I like to serve some New Year's Eve treats that are more for  the kiddos and some that are more for us 'rents, but these white chocolate truffles are an equal opportunity crowd pleaser!
Get the Golden Glitter Truffles recipe here.
Sparkling Stars
This one is definitely popular with the kids. These sparkly goodies have...wait for it...Pop Rocks in them. Need I say more? Not only will they make your table look pretty, but they'll definitely keep the little ones busy!
Get the Sparkling Stars recipe here
Cranberry Pomegranate Champagne
And now it's time to take care of the grown-ups. Nothing says NYE like toasting with bubbly, and champagne is definitely one of my favorite New Year's Eve treats!
Get the Cranberry Pomegranate Champagne recipe here
More from Momtrends
Pin it!
Follow our New Year's Eve board on Pinterest here.
Cheers and here's to another year!
We were not paid for this post.