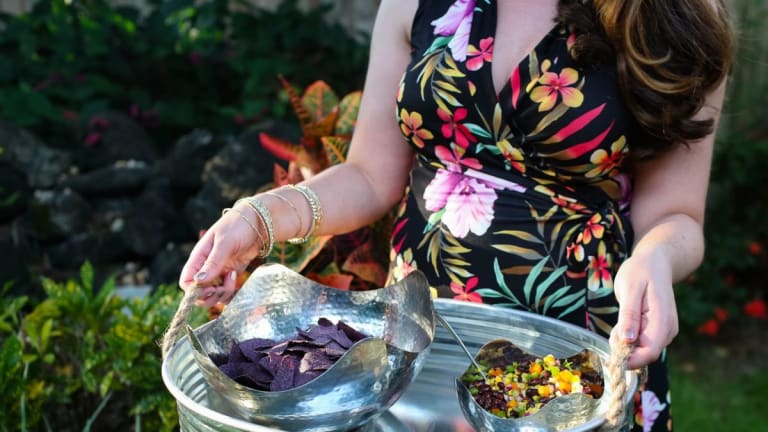 Three Scrumptious Salsa Recipes
We rounded up some of our favorite salsa recipes for your spring parties!
When the weather starts to warm up, my thoughts immediately turn to entertaining. There is something so magical about throwing a balmy evening soiree. Whether that means just having a few friends over for cocktails and appetizers or whether I'm jonesin' to throw a full scale party. It's all fun for this girl! And you know what is always a hit no matter how low key or how involved my get together is? Salsa! Show me a person who doesn't love salsa. I dare you. Haha!
Related: Best summer desserts to make on the grill
So, I decided to round up a few tasty salsa recipes for your spring entertaining pleasure. Get ready to have some very happy guests...and more than a few recipe requests. Whenever I serve my mama's corn salsa, people immediately want to know how to make it...It's THAT good! I promise.
Corn Salsa (Dip)
Ok, so this corn, pepper and bean concoction isn't exactly salsa as it's devoid of tomatoes. But it's still perfectly festive and so darn delicious. And did I mention that it's super easy to whip up? That's the number one selling point for me frankly. I obviously want to serve dishes that taste good, but mama doesn't want to spend all night in the kitchen!
Get the Corn Salsa (Dip) recipe here.
Peach and Avocado Salsa
My happy place is our family's vacation home in the North Georgia Blue Ridge Mountains. The produce is absolutely amazing there...especially the peaches, so you can bet I'll be making this salsa recipe from Take Time for Style the next time I'm up there. Is it summer yet? Haha!
Get the Peach and Avocado Salsa recipe here.
Chicken Salsa
I love how this salsa recipe from Sunny Sweet Days contains a protein. It would make for a great, light dinner. And once the warm weather hits, I always want to eat lighter. I'm sure I'm not the only one who's trying to get into swimsuit shape right? Those summer vacays will be here before we know it!
Get the Chicken Salsa recipe here.
MORE SUMMER FUN FOR MOMS
PIN IT!
Use Pinterest to save your favorite fashion posts. Be sure to follow our Summer fun board here.
Momtrends was not paid for this post.