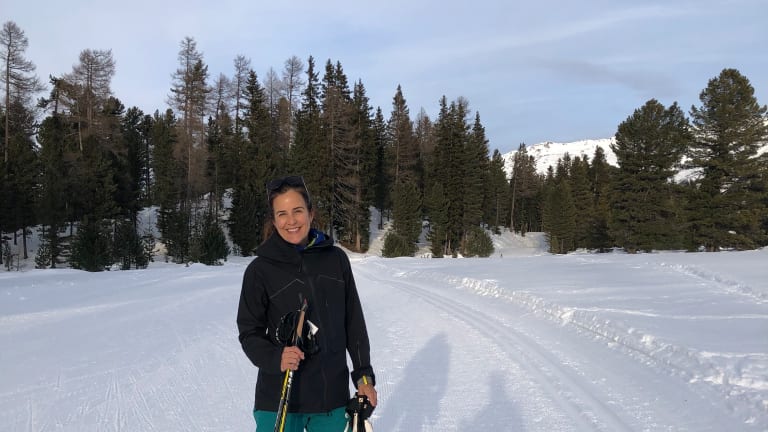 Three Recovery Tips for Hard Workouts
Three ideas for balancing your workouts with self care and recovery tips.
I don't let winter slow me down. In fact, I exercise more in the winter than any other time of the year. When the snow comes, you can find me skiing and enjoying the best of the season. This year, I've added Nordic skiing (aka cross country skiing) to my workout routine. With learning a new sport there are some challenges. I get sore AND I've fallen a few times. I've got three recovery tips for hard workouts that are really useful. 
Muscle Recovery in the Bath
Of course, time is key when it comes to muscle recovery. But other things can help too. A long soak in a bath with Salt Works Epsom salt totally revitalized me yesterday after a long winter run. Even with the right cold-weather running gear on, it's a harder workout in the cold.
This Epsom salt tip really works and the eucalyptus smells great. Epsom salt helps with soothing back pain and aching limbs, easing muscle strain. Research shows therapeutic benefits in the combo of magnesium and sulfates found in Epsom salt. I keep the 5lb. bag in my bathroom for a weekly soak after a hard workout. A 20-minute warm-water soak coupled with the soothing aroma of eucalyptus is just the thing for this aging athlete.
Get Salt Works Eucalyptus Epsom Salts here.
Spot Healing with Muscle Balm
I've tested out a few muscle balms with Arnica in them. My new favorite is Jumby. I'm not on the CBD train yet, but I do belong to the camp that thinks botanical ingredients can help the body heal faster.
I fell on my hip cross country skiing in Switzerland. The fall left a nice bruise and some tenderness. I brought along this tin of Jumby and I felt relief almost instantly. Instead of Arnica, this balm has Certified Organic Ginger, Clove and Calendula oil. This combo is designed to rapidly help soothe stiffness and ease muscle strain.
I tested Warm as Toast balm. I loved the non-greasy feel and it smells delicious. I rubbed it on my hip and felt relief from my not-so-elegant fall.
Jumby makes a lot of balms that are targeted for different body issues. You can check out the website here. 
Add More Stretching to Your Workouts
As we age flexibility and balance are key to preventing injury and staying healthy. As I'm finishing up my 40's I'm making sure I work in plenty of time to strength train, work on balance and maintain my flexibility. 
Use this 5-minute flexibility workout to treat your body right! This stretch video is perfect for anyone who needs a quick break from the kids or the computer (hello working moms, I'm talking to you!). You can gain flexibility and overall health by adding these stretched to your workout routine. I'm working with Lawson Harris who is a great personal trainer. She's got years of experience and shares proper form with this pilates inspired workout.
 5-minute flexibility Video 
Momtrends' YouTube channel is all about providing fashion and style inspiration to moms. From the trendiest fashions to the coolest gear to beauty trends, we want you to feel fabulous every day. Be sure to subscribe!
MORE FITNESS FROM MOMTRENDS
PIN IT!
Be sure to follow our Health & Fitness and board here.
Momtrends was not paid for this post. Be sure to check with your doctor before starting any new exercise routine.