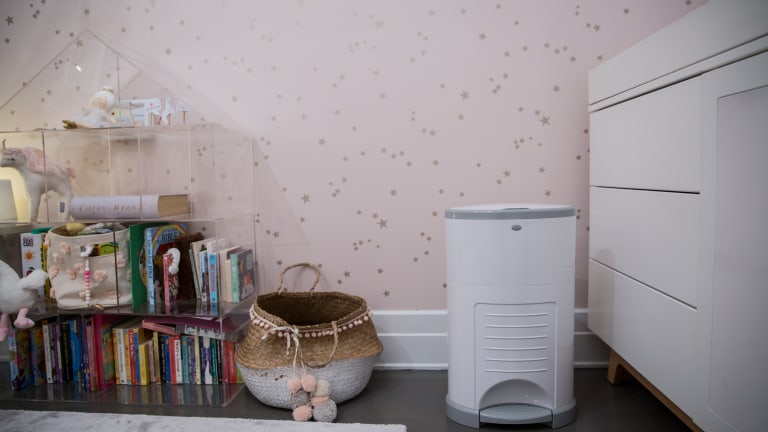 Three New-Mom Must-Haves
Because Babies EAT, SLEEP, and POOP
Ah, infants... We love the squishy, delicious early stage. You can cuddle and coo to your Mama-heart's content; you can dress those little nuggets up in the most ridiculous (but oh-so adorable) outfits, and you can nap when they nap... at least in theory.
Your own real-life baby doll... And all they do is EAT, SLEEP, and POOP. You know, the basics. 
You don't need much to get you through this fleeting phase... Lots of love, some diapers, and a few other essentials. Of course, if you want them to eat well, sleep soundly, and poop less odorously (okay, well, at least poop with less lingering effects), then you'll also want to add a few additional pieces to your infant-stage arsenal--three of our top baby finds from our 2018 #MTBabyShower event.
Nomi:  
A high chair is a high chair is a high chair, right? Well, we say "No." Actually, we say NOMI!
With a focus on functionality, ergonomics, and safety, the new Nomi high chair sets new standards for the market. Unlike, traditional high-chairs, the Nomi isn't a temporary solution for feeding a baby or sitting him upright. You're not going to use it for a year or two and then put it in storage with the rest of the forgotten infant gear. 
The Nomi is a high chair that grows with your child--in fact, it can even be used in adolescence. It was designed to optimize comfort and support and to evolve with your child--to be "one chair in three stages"
Initially, in its first stage, Nomi can be used for a newborn to six month old. Then with a restraint and harness, it can be used as a feeding high-chair from six to 24 months. Finally, it can be used as a traditional chair throughout childhood.
The Nomi is easily adjusted as your child grows, seamlessly and without tools. The depth of the seat and footrest automatically align when you adjust the height of the highchair, so that the child is always seated in an ergonomically correct position. The Nomi Baby is available separately as an accessory. It adjusts from a more reclined position to an upright one, as Baby grows. The high chair is perfect for the child who is able to sit upright unsupported, sitting safely with the help of the restraint and the harness. At around age 2, or whenever child is able to climb in and out of the chair, the restraint and harness is easily taken off and the child is ready for the Nomi Chair. The seamless adjustable foot support is a real game-changer here. Many toddlers and kids--even through the age of 10 or 11--are uncomfortable without a good foot rest on their chairs.
The Nomi is functional and sleek and it doesn't take up a lot of room (so it's great in small spaces and for city dwellers). Best of all, the Nomi encourage free movement and keeps babies and kids sitting in a healthy position whether they're EATING, playing, or relaxing.
Love to Dream
To sleep perchance to dream... Is there anything better than a happily snoozing baby? How about a happily snoozing baby AND a peacefully snoring Mama! Sleep is the key to sanity, if you ask me... and a Love to Dream swaddle can be the answer to keeping your newborn and infant cozy and quiet all night long. 
Research shows that babies sleep better when they're swaddled and when they can self soothe. But with traditional swaddles, these two things are at conflict; a babies arms are pinned to his body, burrito style, making him unable to find his hands, touch his face, or suck his fingers--three typical self-soothing behaviors.
The Swaddle UP Original places Baby's arms in an up position, so he can get his hands to his face. This is also the most natural sleep position for most babies. Once the baby shows signs of trying to roll over, you can switch to the Swaddle UP 50/50. It enables you to unzip and "free" one arm initially so you don't disrupt the sleep pattern you've worked so hard to establish. It's a slower and gentler transition; after some time, you can free both arms and the 50/50 converts to a cozy sleep suit.
The Swaddle Up also features two-way zippers you can open from the bottom, giving you easy access for middle-of-the-night diaper changes. This is also a major benefit you won't have with a traditional swaddle.
Diaper Dékor
Take it from me, you want diaper changes to be quick and seamless--especially when you're it's late and you're sleep deprived and you have a stinky situation on your hands.
The Diaper Dékor is the easiest and most convenient diaper pail we've encountered. It's as simple as STEP, DROP, DONE. You don't have to bend or twist or squish--you just deposit your baby's, er, deposit and move on! Wiping and catching and changing is hard enough; throwing out your little stinker's stinky load shouldn't be. 
We love that the Diaper Dékor features an economical continuous liner, meaning you only use a much as you need and won't waste a whole bag on a few poopy diapers. That's just practical and smart. (And, FYI, it can also be used for cloth diapers.) Plus, its ABS plastic doesn't absorb odor--so it traps those undesirable smells, keeping your home fresh and fragrant-free.
Available in three different sizes and in five colors, the Diaper Dékor fits seamlessly into any nursery space. 
Baby will do much more than EAT, SLEEP, and POOP... but enjoy this simple (and yet still exhaustingly stressful and amazingly beautiful) time while you can. It goes way too fast. These three items will help you make the most of it.
This post is sponsored by Regal Lager. All opinions are our own.