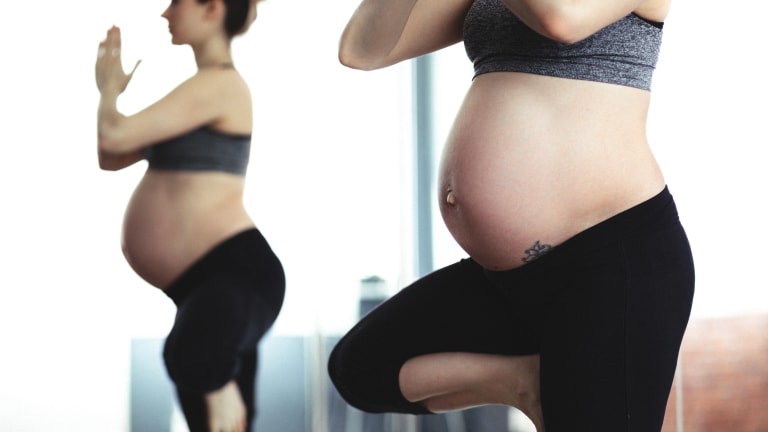 Three Great Prenatal Workout Options
There are gentle and effective ways to stay healthy and relaxed for every level of fitness.
The way our body's bounce back after we have baby often has more to do with what we did to keep in shape and eat right before and during pregnancy than it does with what we do postnatally.  We're sharing three great prenatal workout options to keep you healthy and happy through pregnancy and beyond.
Related: Exercise can give you a healthy happy pregnancy
It is important not to overdo it during pregnancy, to eat right and to always consult a physician before starting a new exercise routine. There are gentle and effective ways to stay healthy and relaxed for every level of fitness. Here are our picks for some of the best pregnancy workouts that will help you get your pre-baby body back quicker. 
Every Mother 
Founded by Leah Keller, this is a new approach to fitness that was primarily developed as a pre and postnatal total body workout, but is becoming more and more popular with women and men wanting to correctly train their abdominal muscles to achieve a firm, flat and toned stomach. 
Every-Mother reinforces the strength, resilience and elasticity of both the linea alba and the rectus abdominis - areas of our tummies mostly changed by carrying a baby for 9 months. Created to keep moms safe and strong through pregnancy and beyond, Leah empowers and equips women to exercise safely during pregnancy, labor with confidence, and restore core strength and total body fitness after birth. Get more information here https://every-mother.com/
At Home with Hilaria Baldwin
Fit Mommy-to-Be Prenatal Yoga is the effective workout from popular New York City yoga instructor and EXTRA Lifestyle Correspondent Hilaria Baldwin. These 3 workouts created for all stages of pregnancy are available on DVD or streaming. Baldwin developed these after giving birth to her first child with husband and actor Alec Baldwin Hilaria says, "This yoga practice that I've designed has kept me fit and feeling great throughout my pregnancy."
With yoga moves focused on aligning your body, strengthening and de-stressing, their is also the added bonus of partner stretches featuring Hilaria's husband, Emmy®-winning actor Alec Baldwin.
Physique 57
Prenatal classes offered at Physique 57 in NYC and online. Most classes can be modified for pre and post natal women. You can visit their website to read up more on the signature Physique 57 classes modified to the individual as well as to see a class schedule.
Head here for information https://physique57.com/
MORE PREGNANCY HELP FROM MOMTRENDS
PIN IT!
Use Pinterest to save your favorite parenting and pregnancy resources. And be sure to follow our Pregnancy-101 board here.
Momtrends was not paid for this post but did receive samples.