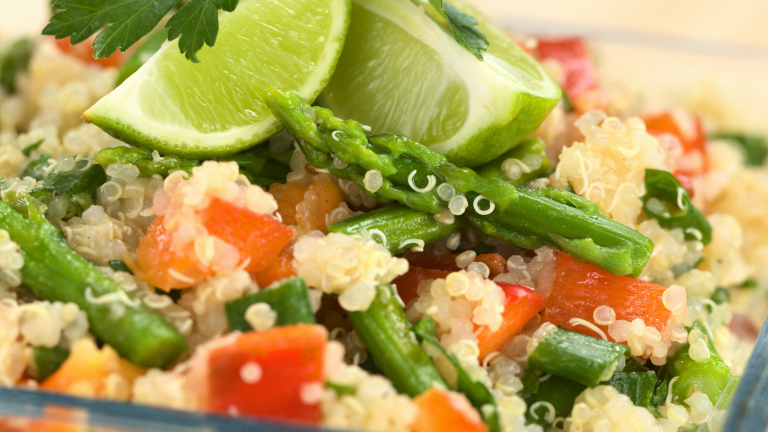 Three Easy Tips For Becoming a Vegetarian
Giving up meat? These tips can help
Health experts, doctors and nutritionists consistently site the benefits moving toward a plant based vegetarian diet. I was a vegetarian for over nine years and I learned a thing or two that can help you and your family make the switch, whether it be exclusively or not.  I have started back on this journey and am happy to have my family along for the ride. 
Three Easy Tips For Becoming a Vegetarian
1. Slow and Steady Wins the Race: Not many people like rapid change. It's hard to adjust to a new lifestyle especially overnight. Why not start with a goal of offering a vegetarian meal 2x a week and work your way up? The transition will be seamless, you're bound to hear less complaining and you and your family will be reaping the health benefits in no time.
2.  Support, Support, Support: I rely on my aunt for support. She's been a vegetarian for decades, and knows the ropes. Know a devout, and healthy vegetarian? Set up a chat over tea and exchange ideas, recipes, great restaurants and "go to" options. Our library hosts a plant-based diet chat once a month, gathering new and "veteran" vegetarians to share challenges, resources, and experiences. Having support is key in making the switch. You must try this Chick Pea Sweet Potato Stew from Skinnytaste; no one will miss the meat!

3. Knowledge is Power: Okay, so you're not eating animal protein, but now what? You need to incorporate healthy sources of proteins into your diet. Of course, cheese is a yummy option, but it can pack in the calories fast. Reach for quinoa, nuts (especially almonds), pumpkin seeds, Greek yogurt, eggs, lentils, avocados, hummus and a surprising one? Sun-dried tomatoes! Our local health food store offers workshops with a certified nutritionist and she is helping us ensure that our diet is nutritionally sound, balanced and appealing to all.
Are you thinking about making the switch to a more plant-based diet? We'd love to hear from you. Leave us a comment and share a tip!
This is not a sponsored post. All opinions expressed are our own.