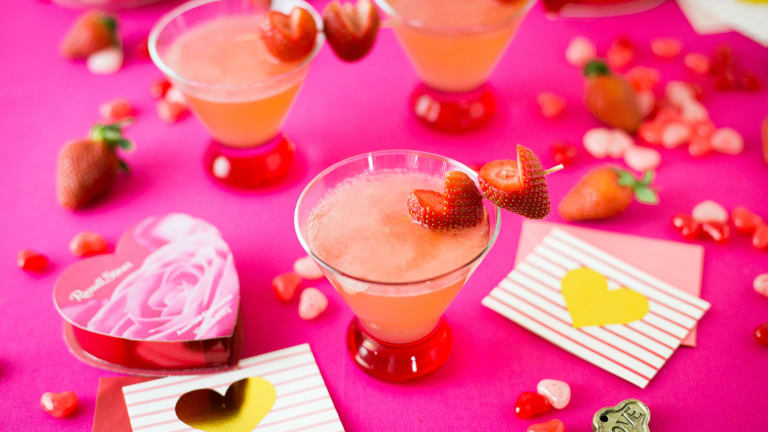 Three Delightful Valentine's Day Cocktails
Whether you're planning a Galentine's dinner or romantic tête-à-tête with your plus-one, you're going to want to have the ingredients handy to make a signature sipper for your sweetheart or your sweet besties
Cupid's cocktails--that's what I'm calling these three delicious drink recipes. Sweet, bright, and PINK, they'll surely inspire feelings of fuzzy love and buzzy delight come Valentine's Day. 
Whether you're planning a Galentine's dinner or romantic tête-à-tête with your plus-one, you're going to want to have the ingredients handy to make a signature sipper for your sweetheart or your sweet besties--either way works! One of these (or all three!) will definitely win over your affections.
Blood Orange Kombucha Cocktail
Just four ingredients and you've got yourself a kickin' cocktail. The blood orange juice is sweet and tangy and offers the perfect counterbalance to your slightly bitter Kombucha .
Ingredients:
2 oz. Natalie's Blood Orange juice
2 oz. Gingerberry Kombucha
1.5 oz. vodkaSeltzer
Directions:
1. Fill a rocks glass with ice.
Add Blood Orange juice, kombucha & vodka. Stir Well.
Top with seltzer.
Raspberry Lemonade Cucumber Margarita
Will you be mine? That's what you're going to say to this "sweettart" marg once you take your first sip! It packs a punch of flavor, but the cucumber mellows out the lime and raspberry in a completely refreshing way.  
Ingredients:
16 oz. Natalie's Raspberry Lemonade
1 cup Cucumber juice
1/2 cup simple syrup
12-14 oz. Tequila
8 oz. Fresh lime juice
Simple syrup Ingredients:
1/2 cup sugar
1/2 cup water
Directions:
Make simple syrup: combine 1/2 cup of sugar & 1/2 cup water in a small saucepan. Bring to a boil & stir until sugar is dissolved. 
Remove from heat. Let mixture cool to room temperature. Refrigerate syrup until ready to use.
Make cucumber juice: add cucumber & 1/4 cup water to blender. Add more water a little bit at a time, if needed. Puree until smooth. Makes 1 cup of cucumber juice.
To make 6-8 margaritas: Combine all of the margarita ingredients in a pitcher. Stir well. 
Chill at least 1 hour or until serving time. Stir well before serving. 
Pour over ice or straight up, depending on your preference.
Strawberry Lemonade Cosmo
You can leave out the vodka and Cointreau, and serve your Natalie's Strawberry Lemonade juice in a glass with juice a bit of lime and some fresh strawberries for a light and bright mocktail kids and grownups will love. It would go great with one of these adorable V-Day breakfast dishes.
Ingredients:
2-3 Fresh strawberries, tops removed & sliced
2 oz. Strawberry Lemonade
1.5 oz. citrus vodka
0.5 oz. Cointreau
0.5 oz. fresh lime juice
Fresh strawberries, for garnish
Directions:
In a cocktail shaker, muddle the strawberries.
Add Strawberry Lemonade, vodka, Cointreau & lime juice. Shake until well chilled.
Strain into a martini or coupe glass.
Which one will you try when you celebrate Valentine's Day.
MORE WAYS TO MAKE IT A HAPPY VALENTINE'S DAY!
PIN IT!
Be sure to follow our Valentines board and pin your favorite ideas.
This is not a sponsored post. All opinions are our own.