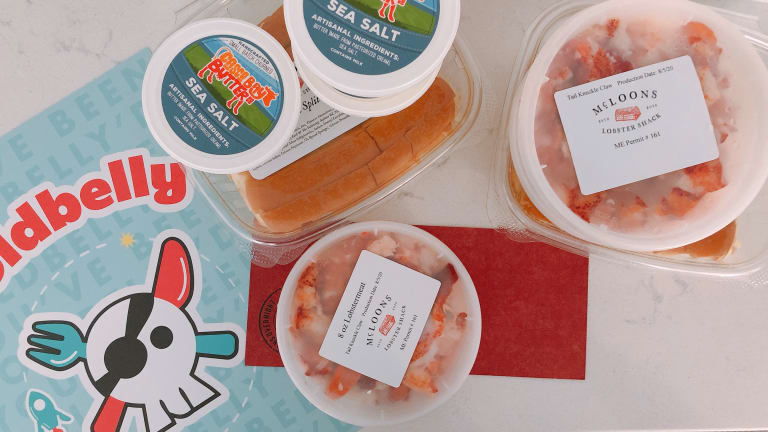 The Very Best Comfort Food Delivered Wherever
Goldbelly delivers tasty gourmet meals across the country to bring the best comfort food to friends and family.
I believe in the emotional power of food. Food brings people together and is a way for us to show love. That's why I love giving and getting gifts from Goldbelly. 
Goldbelly is a curated online marketplace for regional and artisanal foods crafted by local food purveyors throughout the United States. Goldbelly's staff curates products from restaurants, bakeries, delis, etc. to feature on the site and facilitates shipping across all 50 states.
Related: Female empowerment subscription box made by women entrepreneurs
Comfort Food Delivered Wherever
Food is my language of love. I love preparing food and I love a night off too. A dear friend recently gifted me a Goldbelly gift from McLoon's Lobster Shack.
I love lobster, but usually don't go through the effort of cooking and cleaning them. Getting lobster rolls that were ready to go was a perfect day off for this busy COVID chef.
McLoon's Lobster Shack is a family owned lobster shack in Spruce Head Island, a lobstering village in Maine. They are known for lobster rolls. Goldbelly does the leg work for sourcing the VERY best food and they did a great job on these lobster rolls. 
The lobster meat is shipped fully cooked and ready to eat. If you aren't ready, tuck everything into the refrigerator (for up to four days). All we need to do was toast the rolls and add the lobster meat to the roll and enjoy. 
Sadly, I'm likely not be traveling to Maine any time soon. But thanks to Goldbelly I had a little bit of Maine at my doorstep. The restaurant is open seasonally but they ship lobster rolls year round.
How to enjoy GoldBelly
The lobster rolls are just one of hundred's of goodies available from GoldBelly. In addition to seafood, they have sweets, BBQ and so much more. Like Oprah's Favorite Key Lime Bundt Cake or the tastiest bagel spreads from Russ and Daughters (oh, how I miss that NYC staple, check out our visit here).
Since this is the summer none of us wanted, why not make a mini vacation at home with some special food from a fabulous chef.
Get a subscription
Are you a foodie bored with the delivery in your area? Why not let Goldbelly surprise you with a Best of GoldBelly Subscription. Get a delivery every month of the country's most highly sought-after, handcrafted foods! From pit masters to pie makers and butchers to bakers – all the legendary artisans who've devoted their talents and skill to producing all the food the nation is completely, maniacally, head-over-heels obsessed with. Each monthly box with items we deem legendary. Some months will be a savory item, others will be something sweet. Each box will always have enough food to serve at least 4 people (and sometimes more).
You can get a bacon subscription, an ice cream subscription
Get all the scoop on subscriptions at Goldbelly here.
MORE SUMMER FOOD IDEAS FROM MOMTRENDS
PIN IT!
Be sure to use Pinterest to save your favorite ideas for date night. And for more Summer Fun, be sure to follow this board.
For even more Momtrends, follow us on Facebook, Twitter, YouTube, Pinterest and Instagram