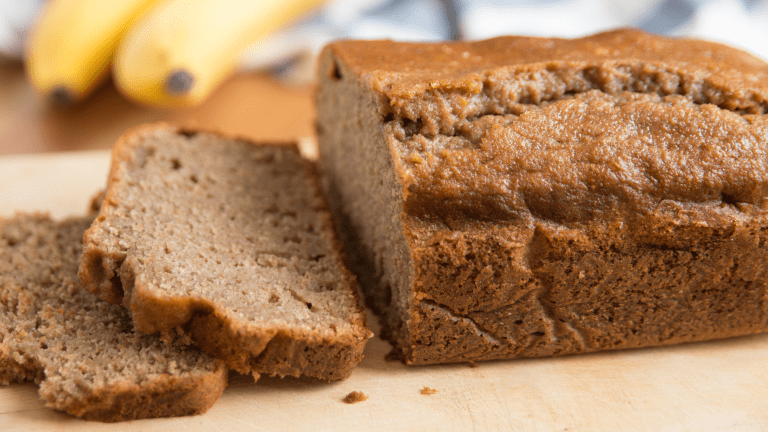 The Ultimate Banana Bread Recipe
A big baking trend that has emerged during this time: customizing your banana bread recipe. This is the ultimate recipe.
You guys, I've done it. I've hopped on the baking bandwagon. I'm pouring my feelings into chocolate chip cookies, cupcakes, and crumbles. I've loaded my Instacart orders up with confectioner's sugar, vanilla extract, and all the flours. I'm a veritable cream puff--oozing with sweet inspiration. 
Related: Crockpot stuffed apple French toast recipe
Why We All Need Banana Bread Right Now
Waistline, be damned, I've got pies to prepare. Yes, in this uncertain time, homemade goodies have become a love language for me. I might not know when school will start up again, I can't make play dates, I won't be scheduling parties, but I can make a mean scone. It won't solve our bigger problems, but it will bring joy to my loved ones. That's a win.
A big baking trend that has emerged during this time: customizing your banana bread recipe. I accidentally became an Instagram cliche when I made six different recipes in two days. You see, my Instacart shopper snagged me eight bunches of bananas instead of the eight individual ones I had requested. Just call me the Oprah of banana bread--"You get a BB. You get a BB. You get a BB!" Social distancing banana bread drops for the entire neighborhood. No, seriously, I am now something of an expert. 
I riffed off my favorites recipes (Smitten Kitchen's and Chrissy Tiegen's), and developed my own ingredient list and directions for baking the ultimate quarantine banana bread. And now I'm sharing my creation with you... because I can't keep it to myself and would literally ship you a loaf if I wasn't scared to go to the post office. So here's the next best thing--my recipe, with love.
Ingredients
1/2 cup of salted butter
1 cup light brown sugar
1 cup of granulated sugar
1 tsp of cinnamon 
1 tsp baking soda
1 tsp baking powder
2 cups of all-purpose flour
2 cups of mashed bananas
2 large eggs
1 tsp vanilla extract
1 cup of chocolate chips, unsweetened shredded coconut, and/or walnuts (optional)
The Ultimate Banana Bread Recipe
Preheat oven to 350 degrees
Combine dry ingredients 
Cream butter, add wet ingredients 
Slowly add the dry mixture, folding in one cup at a time
Fold in shredded coconut, chocolate chips, and/or walnuts
Bake in a 9x5-inch loaf pan for 60 minutes (or as needed)
If you want a twist on the classic banana bread, try this Banana bread cookie recipe from my friend over at Lady and the Blog.
Want more from Momtrends?
PIN IT!
Use Pinterest to save your favorite recipes ideas. Be sure to follow our Recipes to Inspire Board here.
This is not a sponsored post.