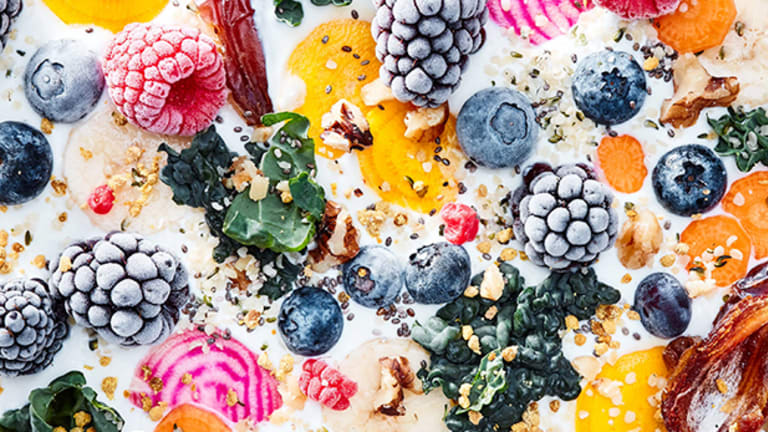 The Smoothie Project Brings Easy and Colorful Nutrition to Families
100 Smoothie recipes for your family from Catherine McCord -- a simple nutrition solution that's healthy and satisfying.
Who doesn't love a smoothie? When it comes to getting an easy, nutritious breakfast served in a flash, the smoothie has been a blessing to this working mama. What I hadn't thought about is how smoothies can solve more than the "what's for breakfast?" question. Foodie mom, Catherine McCord created The Smoothie Project to brings easy and colorful nutrition to families. The project started with helping her son and grew from there. 
Related: Check out our review of Catherine's One Potato Meal Service
We've been fans of Weelicious and Catherine for years (head here for a full interview with the Founder). McCord is an expert recipe developer, and it's no surprise that she tapped her knowledge base when her son started suffering from chronic nausea. When the doctors were stumped, McCord blended up a solution-- smoothies. Thanks to social media, the project took off and now there's a book full of McCord's ideas called Smoothie Project: The 28-Day Plan to Feel Happy and Healthy No Matter Your Age.
Taking the Smoothie Project 28-Day Challenge
To encourage more parents to make a move towards healthier eating, McCord issued a friendly challenge. She asks families to try this change for twenty-eight days. All you need is a blender and a bit of commitment. Each morning for 28 days, have a smoothie. McCord says "every glass will bring you one step closer to achieving your goals."
You won't run out of inspiration. There are nearly 100 mom-tested recipes in this book. And let's be honest, even if you just use these recipes for stress-free breakfast ideas, it's still a win avoiding morning meltdowns.
How Smoothies Can Help Your Health
Need a bigger nudge to try the smoothie challenge? McCord explains that some of the health benefits of key smoothie ingredients can help reduce stress and anxiety, control ADHD symptoms and help kids gain a lifelong love of healthy foods. 
And in this nasty cold and flu season, smoothies can help boost your family's immune system.
Get the Smoothie Project book on Amazon here.
Immunity Boosting Shots Recipe from Weelicious
This smoothie will take just three minutes!
Prep Time: 3 mins Cook Time: 0 mins
Ingredients
1 navel or valencia oranges
1-inch piece fresh ginger root
1-inch piece fresh turmeric root
pinch black pepper
1 teaspoon coconut or oregano oil
Preparation
1. Peel oranges (removing seeds and white pith), ginger and turmeric root.
2. Add all ingredients to the blender and blend until pureed. If needed, add more orange juice to achieve the correct consistency. 
For more recipes, head to https://weelicious.com/
More Mom Life Hacks For Your Family From Momtrends
Pin It!
Use Pinterest to save your favorite recipes. Be sure to follow our Kid Food Pinterest board here.
Momtrends was not paid for this post.