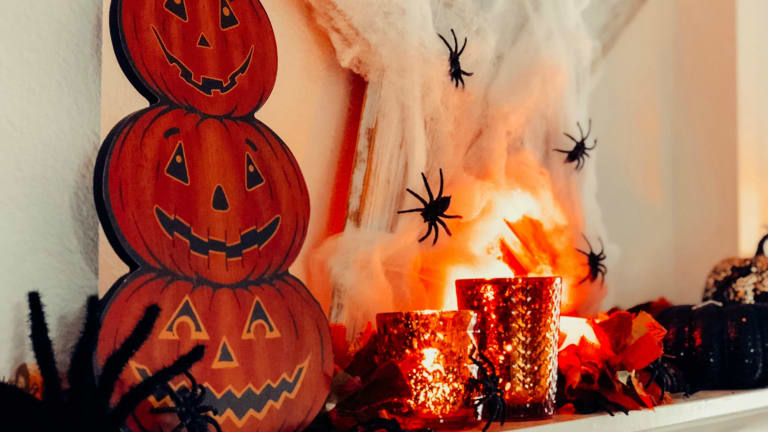 The Scariest Halloween Mantel Around
Spider-inspired decorations are a great jumping off point for our Halloween mantel decorations.
What's scarier than a spider? Not much in this girl's book. I know they do helpful things like keep other pests away, but creepy, crawly spiders have always made me shudder. And since my kiddos want our Halloween decorations to be as spooky as possible, I thought some spider-inspired decorations would be a great jumping off point for our Halloween mantel! I actually haven't had a mantel since I was a child, so when we were shopping for our latest home last year, a fireplace was a must...because this girl LOVES a good holiday mantel display. And I'm not just talking about Christmas. I'm talking about ALL the holidays! Yes, my mantel was virtually begging to be spookifed, so I happily obliged with the decorations I'll discuss shortly including Philips Hue smart lighting, because you can't have the scariest Halloween mantel around without mood lighting…
Related: DIY Halloween graveyard
In case you aren't familiar, Philips Hue is a smart lighting system that gives you control over every single aspect of your home lighting. We have smart devices, why not SMART lighting? You can fully personalize your lighting right from the Philips Hue app on your phone or tablet. How cool is that? With 16 million colors to choose from, including every shade of white, you can definitely create the right ambiance for any occasion, including Halloween! I should say ESPECIALLY Halloween. Plus, you can even control Philips Hue with your voice. It works with Amazon Alexa, Google Assistant, Siri with Apple HomeKit. It doesn't get much handier than that. And if you decide to go the haunted house route, you can use compatible, third-party apps like Hue Haunted House to add flashing and flickering features to your lights. Spooooooky!
Now if you're just getting started with Philips Hue smart lighting, you'll probably want the Philips Hue White and Color Ambiance starter kit that comes with:
A bridge, which is the heart of the Hue system. It allows for the app-based control of the Hue lights.
An Ethernet cable to connect the bridge to your wireless router, and a power cord to plug the bridge into any standard outlet.
Four A19 standard-size LED light bulbs capable of emitting 16 million colors or 50,000 shades of white light – allowing you to fully customize your lighting and experience. You can install the bulbs in any standard, indoor light fixture.
Ok, now that you understand WHY I used Philips Hue smart lighting, let's talk about said spookiest Halloween mantel around, shall we? I started with a fabric garland festooned with festive fall colors. Next, I covered the distressed wooden star that serves as my everyday mantel decor with a fake spider web and glittery spiders that look like they're crawling all over it. Ewwww! I continued on with the sparkly theme, thanks to metallic votives and sequin- and glitter-bedecked pumpkins, while sprinkling in some more of those sparkly spiders. And I, of course, had to add a GIANT spider, too, because a good mantel display is all about varying textures AND sizes. That is exactly why I finished things off with a taller, three-tier pumpkin decoration; it adds some height.

So, my scary mantel situation looked pretty good all on its own, but I still thought it needed a little something, and that's where my Philips Hue Go came into play. I used this particular light because it's so versatile. While I could plug it in to give my display a darn right spooky wash of color, I decided to take advantage of the battery feature, so I didn't have to deal with the look of a cord snaking down my wall. That's right! The Philips Hue Go is fully portable and has a rechargeable internal battery that lasts up to 3 hours. And just like with all Philips Hue smart lighting, you can control it with your smart device. I had a blast playing around with all the different colors, but finally landed on a vibrant orange, as it complemented my color scheme nicely.
Ok, now that you have the skinny on the scariest Halloween mantel around, and now that you know why YOU need the Philips Hue smart lighting system, for even more Halloween inspo, check out our Halloween party ideas!
WANT MORE HALLOWEEN TRENDS FROM MOMTRENDS?
PIN IT!
Be sure to follow Momtrends on Pinterest and for more spooky inspiration follow our Halloween and Thanksgiving Boards here. 
This post was sponsored by Philips Hue. The opinions expressed herein are mine and are not indicative of the opinions of Philips Hue.