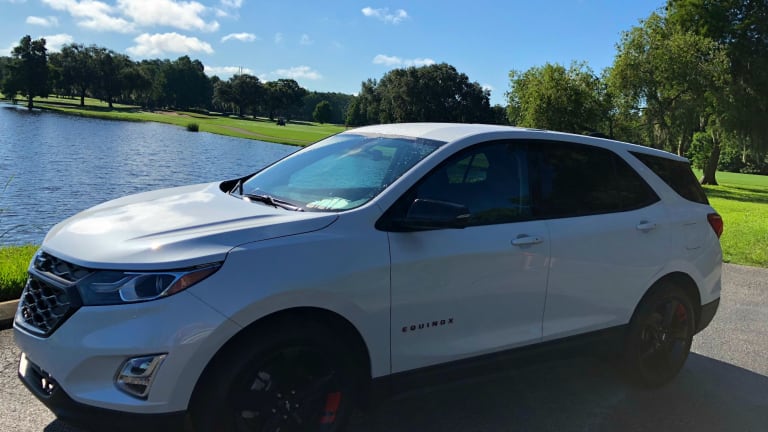 The Perfect Weekend Getaway Car: Chevy Equinox
Do you ever feel like you just need to get away and escape the reality of your everyday life, if even just for a couple of days? That's what weekend getaways were made for! And if you're prone to take them whenever you can squeeze in the time like this girl, I have the perfect weekend getaway car for you. Say hello to the Chevy Equinox! I recently had the opportunity to take the Equinox Redline edition for a spin when the hubs and I headed out to Innisbrook Golf Resort for some parents only time.
Well, let me tell you, after a weekend with this little number, I was ready to run to a Chevy dealership stat. Haha! I currently drive a larger SUV and I just loved the zip this baby has. And it was such a smooth ride. I felt downright sporty in it. That probably also was due to the Redline features which include black grills, bowties, wheels and bright red accents. It's all kinds of fun! And isn't that what you want to be having when you're in getaway mode?! FUN?
The Perfect Weekend Getaway Car
That's certainly what my honey and I had in mind when we dropped the kids off at my mom's house and headed out for our weekend away. We just wanted to kick off our shoes, put our feet up and enjoy each other's company. That is except when we were on the beautiful greens of the Innisbrook golf course or out exploring the local hot spots. Hey, we may be harried parents, but we still have some adventure left in us. And the Chevy Equinox was the perfect set of wheels to take us on one such adventure!
Let's start with all the fun features we found before we even left the house like the large-and-in-charge trunk space. It had space enough for the hub's golf clubs and our bags with plenty room to spare. And the power lift-gate certainly came in handy since we were also loaded down with drinks and snacks for our suite. And did I mention that the rear-vision camera was one of the best I've ever used? I had no problem getting out of my driveway even though my neighbor's teenagers had loads of friends that were parked all over the street. Ahhhh teenagers.

Now, the fun didn't end there. Not only did the Equinox get us to the golf resort in style, but it was perfect for tooling around town. That's right we tooled. When you have little kids in the car, you don't tool around anywhere. You get to your destination as fast as possible to hopefully outrun the whining and bickering that inevitably comes with family car time. Bwah! But we didn't have to worry about that on our weekend getaway. It was just us, our Equinox and the open road. You know what we found on the open road? The perfect ice cream cone. I'm all about the little things y'all. It's amazing what alone time with your honey, a fun ride and a lavender honey ice cream cone will do for your soul!
The Teen Ready Chevy Equinox
So, if you're looking for the perfect weekend getaway car or even the perfect family car, look no further than the Chevy Equinox. I daresay you'll fall in love as much as I did! I'm actually trying to convince the hubs that it would make a great second car for us. We're not too far away from having to replace one of our current vehicles (the smaller one) and and this black, white and red all over number is calling my name. And when it's time for our son to drive, we could give this sweet small SUV to him since the Teen Driver Technology it comes with allows parents to set safety controls and review their teen's driving habits. You know this mom would be all over that! 
Here are some of the coolest details in a nutshell:
VEHICLE HIGHLIGHTS
Power liftgate comes standard

This is great for when you have your hands full with kiddos, groceries, etc.

Teen Driver Technology, allows parents to set safety controls and review their teen's driving habits
New "kneeling" rear seat features tilting bottom cushions that enable a flat load floor for easier loading
Connectivity technologies include 7- and 8-inch-diagonal MyLink infotainment systems designed to support Apple CarPlay and Android Auto, as well as OnStar and 4G LTE Wi-Fi hotspot
SAFETY FEATURES
OnStar® and Chevrolet Connected Services capable
Rear Seat Reminder

Helps to remind the driver to check the back seat(s) before leaving the vehicle

Rear Vision Camera
EQUINOX REDLINE FEATURES:
Black Grille
19-inch Wheels
Black Mirror Caps
Black Window Trim
Black Bowties
So, now that you've seen why I'm crushin' on the Equinox, for more Chevy adventures, check out our take on the Chevy Traverse!
This is not a sponsored post. The car was loaned to me for a test drive. Accommodations were provided at the resort.