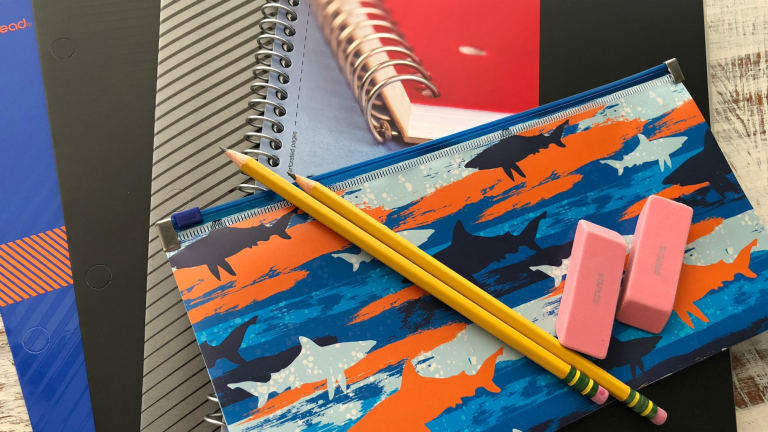 The Only Place You Need to Go for Back-To-School Shopping
It's that time of the year again...back-to-school season is nearly upon us and with that comes the dreaded school supply list. I don't know how it is in your neck of the woods, but in mine we get a very specific supply list that can get pretty lengthy. Not that I'm complaining. For teachers that go above and beyond to give my kids the best education and support system possible, I am more than happy to supply a basket full of supplies. The thing is, the lists are pretty specific and if I don't start shopping early enough, I wind up running all over town trying to find what I need at a bunch of different stores. So, this year I'm determined to get my act together in advance so I don't end up on a wild goose chase. And beyond getting started earlier, I need to choose the right store...because the right store should have everything I need! I've determined that the store I've been waiting for is Staples! That's right, Staples is a one stop shop for all your back to school supplies shopping needs and I'm going to tell you why!
You see, Staples is THE back-to-school specialty store. They offer a hugely diverse collection of carefully curated back-to-school supplies that have been recommended by their in-store specialists (yeah, they offer expert advice too, so feel free throw them any back to school supply must-have questions their way). Because I'm sure you know that every teacher has different needs. Each of my kids have an incredibly different school supply list and it's great that Staples recognizes that the struggle is real. Plus, you can find both national name brand and private label supplies at affordable prices. Every dollar counts, especially this time of year when you're not only buying school supplies, but also clothes, shoes and the like. And those back to school purchases can make a difference in how your kid tackles the year ahead.

My kids started a new elementary school last year and while, thankfully, they made plenty of friends, they're still a bit nervous about going back since many of their fellow students have known each other since they were toddlers. So, getting them excited about using their new supplies is helping quell those first day back jitters! They're still at the age where school supplies shopping is exciting. Haha! And, let's face it...I'm a mom who will do anything to keep stress away from my babies. If a super cute pencil case that reflects my son's feisty personality, for instance, will help, you can bet I'm throwing that bad boy in the cart! In fact, I found a slew of super cute extras to go along with required supplies like pencils, folders, erases etc. Staples proudly supports my child's quest for creativity, self-expression and discovery...as do I!
And beyond assisting us mamas with getting prepared for the big day, Staples is helping teachers prepare for theirs. While you're shopping you can donate an amount of your choosing to a local DonorsChoose.org classroom project either in-store or online! So, not only will you be ahead of the game because you'll have picked up everything your kids need to kick off the new year, but you'll feel great about helping support dedicated teachers who more than deserve it!
Now who's ready to SHOP? Head over to Staples and tell them Momtrends sent you! And for more back to school tips, check out our back to school organization ideas!
This post is sponsored by Staples.