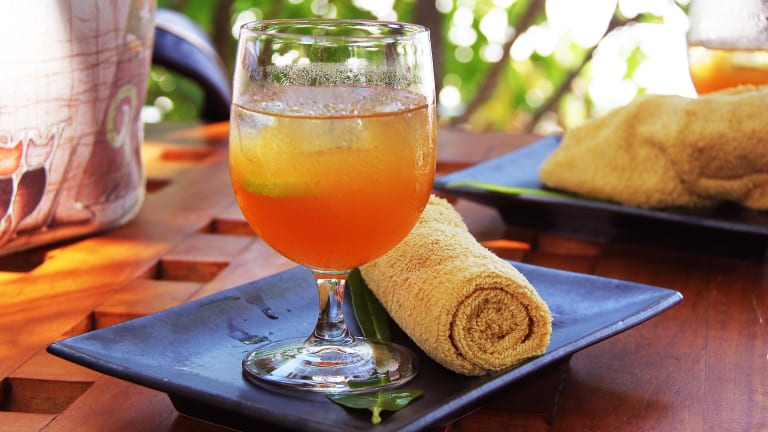 The Most Refreshing Iced Tea Recipes
Looking for new ways to enjoy your favorite brewed teas? Try some of these refreshing iced tea recipes.
I've been brewing my own tea and taking it in on the road in a reusable rubbermaid chug container. I've been favoring green tea as a tea of choice and drinking it chilled icy cold. But then I started hunting down some fresh ways to home brew. Here's are my picks for the most refreshing iced tea recipes.
Thai Iced Tea 
* 3/4 C black tea leaves (approximately 3 oz.)
* star anise, ground tamarind, cardamom and/or other spices, to taste (optional)
* 6 C boiling water
* 1/2 C sugar
* 1/2 C sweetened condensed milk
* 1 C evaporated milk (most traditional), whole milk, half and half, or coconut milk
Directions:
1. Steep the tea leaves (and any optional spices) in the water for 5 minutes, then remove the tea leaves from the water (either by removing the infuser you'??re using, or by straining the water to remove the leaves if loose).
2. While the tea is still hot, stir in sugar until dissolved, then stir in condensed milk.
3. Allow tea mixture to cool to room temperature or colder.
4. Fill tall iced tea glasses with ice, and pour in tea mixture until glasses are roughly 3/4 full.
5. Slowly top off glasses with evaporated milk, whole milk or coconut milk, but do not stir (final dairy should remain primarily as its own layer at the top of the glass).
Arnold Palmer Passion 

* 4 (2 g) bags hibiscus tea 
* 4 cups boiling water
* 4 cups ice cubes
* 4 cups prepared lemonade
Directions
1. Steep the tea bags in the boiling water for 10 minutes. Discard the tea bags and allow the tea to cool to room temperature.
2. To prepare the drinks, fill 4 glasses with ice cubes and pour 1 cup of lemonade into each glass. Carefully pour 1 cup of cooled tea into each glass so that it floats on the lemonade.
Caribbean Tea Splash

*4 cups water
*4 Lipton Cup Size Tea Bags
*1 cup chilled pineapple juice
*1/2 cup cream of coconut
*1 cup ice cubes (about 6 to 8)
Bring water to a boil in medium saucepan. Remove from heat and add Lipton® Cup Size Tea Bags; cover and brew 5 minutes. Remove Tea Bags and squeeze; chill. Process chilled tea with remaining ingredients in blender, in two batches until smooth. Serve immediately.
What have you been up to in the kitchen? If you want to see more of our iced tea inspiration, check out this video.
MORE FOOD IDEAS FROM MOMTRENDS
PIN IT!
Be sure to follow our Pinterest page for tea lovers to get more inspiration: Follow our Tea Lovers board on Pinterest.