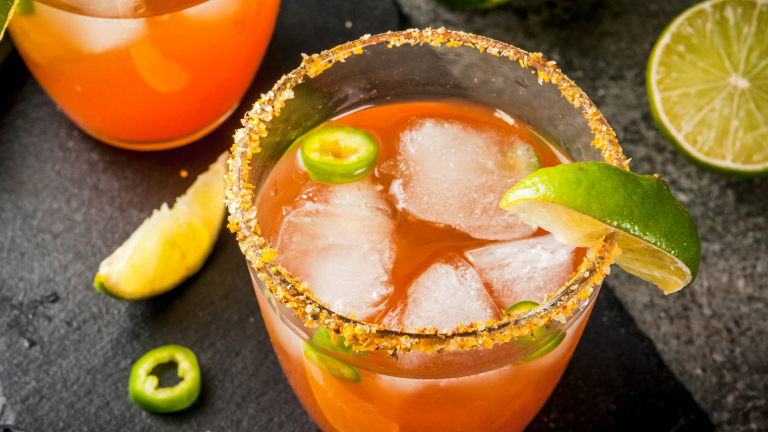 The Michelada Mexican Cocktail with Clamato
Ready for something tangy and refreshing? This drink is a mix of Clamato with beer, Worcestershire sauce, hot sauce, lime, and pepper.
Of course around here on Momtrends you've probably already figured out that we like a good cocktail. Being in the Western US (Arizona) and so close to Mexico, there are a lot of Latin flavors around here. We decided we wanted to try the Michelada Mexican Cocktail made with Clamato.
Related: Thai inspired bloody Mary
The History of the Michelada
It is said that the Michelada made its first appearance in Mexicali at the "Bar los V-tarros" where, the story claims, it was very common to experiment with drink mixes in an effort to find the perfect antidote for the hot, sultry climate. Witnesses claim that Mr. Camacho, the owner of "Bar los V-tarros," and his good friend created the now very popular Michelada, a mix of Clamato with beer, Worcestershire sauce, hot sauce, lime, and pepper. The recipe became so popular, it quickly spread from Mexicali … to the world, and in the U.S. we celebrate this iconic drink on National Michelada Day on July 12th!
Clamato juice is a unique and tasty cocktail made with tomato juice and a blend of spices that livens the senses, and was created in California back in 1969. Now, Clamato is an indispensable ingredient used in many beverages, including the traditional Michelada.
The Michelada Ingredients
Celebrate National Michelada Day by making your own! Below is an authentic Michelada recipe: 8 servings
4 cups Clamato®
4 cups Mexican lager beer (Modelo is typical)
1 tsp. hot sauce, more or less to taste
1 ½ tsp. Worcestershire sauce
1 tsp. soy sauce
Juice of one lime
Tajín seasoning for the rim
The Michelada Directions
Take about a tablespoon of Tajín (or salt) and sprinkle it on a small plate. Rub a slice of lime around the rim of the glass and then press the rim in the Tajín to salt the rim.
Mix Clamato, lager, lime juice, Worcestershire sauce, hot sauce, and soy sauce in a large pitcher. If you used Tajín to salt the rim, pour any excess from the plate into the pitcher.
Fill glasses with ice, add Michelada mixture.
Garnish with a slice of lime and enjoy!
MORE FUN SIPPING IDEAS FROM MOMTRENDS
PIN IT!
Looking for more food ideas? Check out the Momtrends' Wine Time on Pinterest!